The Little Match Girl Strikes Back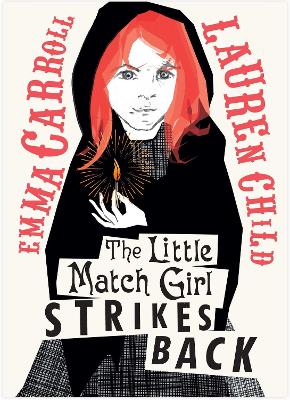 By Author / Illustrator
Emma Carroll, illus Lauren Child
Genre
Historical Fiction
Age range(s)
9+
Publisher
Simon & Schuster Ltd
ISBN
9781398512818
Format
Hardback
Published
15-09-2022
Synopsis
It only takes one strike: A powerful feminist reworking of the Hans Christian Andersen classic, from bestselling and award-winning creators Emma Carroll and Lauren Child.

Bridie works hard to feed her family, selling matches on the streets of Victorian London. After an incident leaves her with only three matches left, the magical strike of each one sees her tumble into visions of a brighter future. Realizing she has the power to change her own fortune, Bridie leads the match factory workers out on strike, achieving the remarkable through their unity and courage.

A defiant and empowering retelling of the classic you thought you knew, based on real-life events, this stunning collaboration brought to life in glorious spot colour introduces a bold new heroine for future generations to treasure.
'Superb. About community and voices and standing up for yourself' Phil Earle, British Book Award-winning author of When the Sky Falls.  'Bridie is a feminist icon, with a story that is all too relevant. There is so much power in these beautiful pages' Katya Balen, winner of the Carnegie Medal.  'A defiant, elegantly illustrated story' Sunday Times Culture. 'A timely read that might prompt discussion' Observer.  '[Lauren] Child's vivid spot-colour illustrations elegantly complement the fierceness of the story' Guardian.


Reviews
Louisa
Meet Bridie Sweeney. She's a little match girl, working hard on the streets of Victorian London to help feed her family; she's poor, hungry and cold - but there ends the resemblance to the famous fairy tale character. As she says, match girls weren't all pretty things with with fair curls and tiny, freezing hands. Bridie has flaming red hair to fit her fearless temperament and an imaginative way with words. One day, rebelliously striking one of her last matches, she tumbles into a vision. It's the first of three and they spur her on to fight for change and a different ending to the story of the Little Match Girl.
Emma Carroll skilfully interweaves real-life events that took place at the Bryant and May factory in London in the 1880s with Hans Christian Andersen's famous tale. Together they make a new story for a modern reader. Bridie's fierce determination combined with her lack of self-pity makes her an empowering role model for anyone struggling against unfairness. Even better, the story is accompanied by resonant illustrations from Lauren Child, inspired by Victorian photos. They make this appealing little book a thing of physical as well as literary beauty, which should tempt children to pick it up.
It packs an educational punch as well as being fun to read and it's not a long book, so would be easy to finish in half a term. It would make a perfect companion to any study of Victorian life (think of a shorter version of 'Street Child'), while comparing it with the original version could open up interesting discussions as well as providing a 'case study' in different story endings. Another great piece of historical fiction from a brilliant writer.
208 pages / Reviewed by Louisa Farrow, teacher
Suggested Reading Age 7+
Other titles