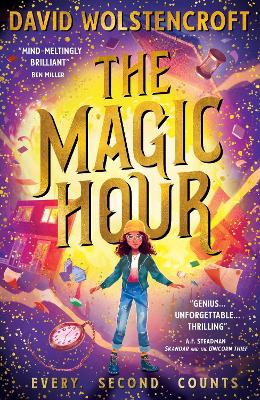 By Author / Illustrator
David Wolstencroft
Genre
Adventure
Age range(s)
9+
Publisher
Scholastic
ISBN
9780702324260
Format
Paperback / softback
Published
08-06-2023
Synopsis
Eleven-year-old Ailsa Craig is always late! To everything - her own birth, school, and even her own house exploding! Although it is certainly better to be late for that than early... But then one day, Ailsa discovers the secret of a lifetime: An extra hour in the day. The Magic Hour which exists in a fantastical, parallel Edinburgh, accessed at twilight. As she explores this extraordinary place where anything seems possible, Ailsa can't believe her luck. Her grades improve and life seems to be on the up - even the popular kids start liking her. But messing with time, can have desperate consequences. When Ailsa discovers that the extra time comes at a terrible cost, she must battle the sinister forces at work and save herself, her parents and the world. What would you do with an extra hour in the day?
A funny, high-octane, race-against-time adventure that is perfect for fans of Skandar and the Unicorn Thief, Amari and the Night Brothers, Pages & Co and Nevermoor. Beautifully illustrated and brought to life by Alessia Trunfio. From award-winning and celebrated creator of Spooks and Versailles, David Wolstencroft.
A fast-paced, time-twisting, magical adventure where EVERY SECOND COUNTS. "I really couldn't put The Magic Hour down. The concept is genius, the characters are unforgettable, and the adventure is thrilling. A book I'll be recommending to everyone!" - A. F. Steadman, bestselling author of Skandar and The Unicorn Thief. "Get ready for a rip-roaring, time-twisting, mind-meltingly brilliant adventure! Lose yourself in The Magic Hour, an adventure so thrilling, hours feel like seconds!" - Ben Miller, bestselling author of The Boy Who Made The World Disappear. "The Magic Hour is twisty, fun, gripping and full of delicious and daring science and adventure." - Vashti Hardy, betselling author of Brightstorm.
Reviews
Donna
Imagine if there was a place that could gift you a magic hour in your day. Imagine if you could spend that hour doing all the things you never had time for. You could read, play sports, finish your homework, learn a new language...anything! Imagine if you were one of the few who knew about this magic place, would you go there? Would you tell anyone else?
When Ailsa Craig's house is destroyed, she and her dad have to move back in with her mum. Things are not going well, and then she finds a way into a parallel world where time is a gift and every second counts. But Ailsa has learned well from her grandmother, and her scientific approach to all things means that she digs deeper into the phenomenon of this wonderful place. What she finds opens up a can of worms and as she discovers more, the scales are removed from her eyes and she begins to see this gift of time for what it really is. Can Ailsa stop the evil trade off with the Shee and put things right?
David Wolstencroft creates a thrilling adventure with The Magic Hour. We follow the story of Ailsa as she battles against the odds, racing against time and desperately trying to right wrongs. With twists, turns, ups, downs and all manner of tricky moments on every page [including hilarious foot notes], this book will really keep the readers glued to what will happen next. And at the heart of the book is that our choices always have an impact on others and that we should treasure every moment we are given.
Curriculum links: Links to divorce, bereavement, problem solving, friendship, hope, determination, choice, love and trust.
416 pages / Reviewed by Donna Burkert, teacher
Suggested Reading Age 9+
Other titles