The Many Half-Lived Lives of Sam Sylvester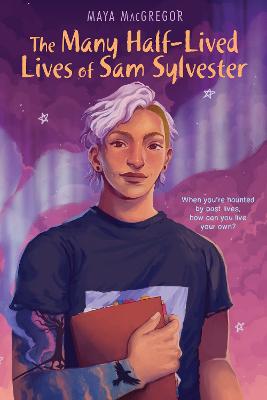 By Author / Illustrator
Maya MacGregor
Genre
LBGTQ+
Age range(s)
14+
Publisher
Astra Publishing House
ISBN
9781635923599
Format
Hardback
Published
07-08-2022
Synopsis
In this queer contemporary YA mystery, a nonbinary teen with autism realizes they must not only solve a 30-year-old mystery but also face the demons lurking in their past in order to live a satisfying life.
Sam Sylvester has long collected stories of half-lived lives of kids who died before they turned 19. Sam was almost one of those kids. Now, as Sam's own 19th birthday approaches, their recent near-death experience haunts them. They're certain they don't have much time left. Yet Sam's life seems to be on the upswing after meeting several new friends and a potential love interest in Shep, their next-door neighbour. Yet the past keeps roaring back in Sam's memories and in the form of a 30-year-old suspicious death that took place in Sam's new home. Sam can't resist trying to find out more about the kid who died and who now seems to guide their investigation. When Sam starts receiving threatening notes, they know they're on the path to uncovering a murderer. But are they also approaching their own end?
The Many Half-Lived Lives of Sam Sylvester explores healing in the aftermath of trauma and the joy in living a full life.
Find out more in this video by author Maya MacGregor
Reviews
Louise
Collected stories, a decades-long murder mystery, new friendships, and themes of healing and self-discovery - with a little of the supernatural thrown in. Yep, The Many Half-Lived Lives of Sam Sylvester has everything you could hope for from a contemporary YA novel. First of all, the book's cover is absolutely gorgeous. Let's just get that out there. Secondly, Sam is the kind of protagonist I wish I'd found in more of the fiction I read at the young-adult age. Nonbinary and autistic, Sam is curious and vulnerable, navigating the world with increasing self-awareness that will make readers feel safe and seen. I found that I wanted to know everything about them, as author Maya MacGregor tantalisingly drip-feeds Sam's history with every turning page. But there's more: Sam is learning who they are, after living in fear of judgment for so long.
This journey of discovery is one that many young people may recognise as their own - even if they can't quite identify with the significant trauma that Sam has been through prior to the events of the novel. I could elaborate, but really don't want to spoil it for you.  It's so important for young people to identify themselves in the books they read, and I am excited for them to discover Sam. Additionally, Sam's special interest in those who died young (prior to their 19th birthday, to be exact), and passion for telling their stories when nobody else could, is heartening - even without the unfolding murder mystery they embark upon, to keep us occupied.
As a final thought... I have so much respect for Junius Sylvester, Sam's dad. It was fantastic to see such a nurturing father figure in YA fiction, with acceptance and love at the heart of his character. I feel it's important, via friendship and family, to show young people that support and tolerance can be, and are forthcoming. Junius has that in abundance. You are rooting for Sam's happiness - and successful investigations - the whole way through.
I can't remember the last time I was so gripped by a mystery. I would recommend The Many Half-Lived Lives... for ages 14+, for Year Nine and over, due to some more mature themes. I cannot wait for my students to discover Sam's adventure, and to give some considerations to the subject matter explored in the novel - the issues represented are so important to discuss at this age, I feel.
360 pages / Reviewed by Louise Baker, school librarian
Suggested Reading Age 14+
Other titles