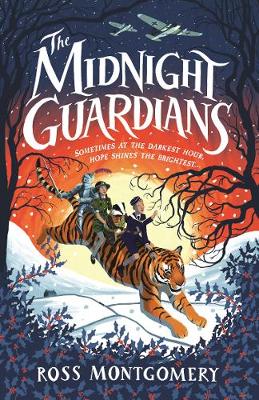 By Author / Illustrator
Ross Montgomery
Genre
Historical Fiction
Age range(s)
9+
Publisher
Walker Books Ltd
ISBN
9781406391183
Format
Paperback / softback
Published
05-11-2020
Synopsis
Sometimes at the darkest hour, hope shines the brightest...

When Col's childhood imaginary friends come to life, he discovers a world where myths and legends are real. Accompanied by his guardians - a six-foot tiger, a badger in a waistcoat and a miniature knight - Col must race to Blitz-bombed London to save his sister.  But there are darker forces at work, even than the Nazi bombings. Soon Col is pursued by the terrifying Midwinter King, who is determined to bring an eternal darkness down over everything.

Praise for The Midnight Guardians:   "Montgomery's latest is an enthralling, Narnia-flavoured novel with the folkloric feel of a Christmas classic." Guardian.   "A magical slice of historical fantasy fiction." i Newspaper.  "Glorious! I think this is Ross Montgomery's best book yet: an adventure across WWII wintry Britain with a Kindertransportee, a boy dressed in shorts and his three imaginary friends. A joy of a joy of a thing." Katherine Rundell
Reviews
Louisa
Col is an evacuee. After the death of his father he has been sent to Buxton to live with his aunt and he is desperate to spend Christmas with his sister, Rose. He thought he had left behind the imaginary friends of his childhood but, unexpectedly, they come to life, bringing bewildering news. Apparently, the dark forces of the Midwinter King are rising and Rose is in danger. Col and his guardians - a shape-shifting tiger, a badger in a waistcoat and a miniature knight - have six days to make the perilous journey to London to save Rose. As they battle bad weather, Nazi bombs and the spies of the spirit king, the mission seems increasingly impossible.
I really enjoyed the way that the historical setting of 1941 worked with the fantasy. Not only does the (historically accurate) freezing weather symbolise the King's growing strength, but the evil of war becomes interwoven with the evil he represents. It's also a cracking, fast-paced adventure, full of unexpected cliffhangers and hairbreadth escapes. Some are grounded in the real world and others in a parallel realm of mythical creatures.
It would be a perfect book to recommend to fans of Harry Potter - another epic struggle between good and evil with a child protagonist defying the odds with the help of his friends. For fantasy enthusiasts, it might help open the path to historical fiction and vice versa. Highly recommended - I've already lent my copy out.
400 pages / Reviewed by Louisa Farrow, teacher
Suggested Reading Age 9+
Other titles