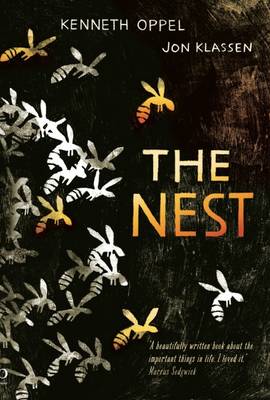 By Author / Illustrator
Kenneth Oppel, Jon Klassen
Genre
Family & Home
Age range(s)
11+
Publisher
David Fickling Books
ISBN
9781910200872
Format
Paperback / softback
Published
06-04-2017
Synopsis
"The first time I saw them, I thought they were angels." The baby is sick. Mom and Dad are sad. And all Steve has to do is say, "Yes" to fix everything. But yes is a powerful word. It is also a dangerous one. And once it is uttered, can it be taken back?  Treading the thin line between dreams and reality, Steve is stuck in a nightmare he can't wake up from and that nobody else understands. And all the while, the wasps' nest is growing, and the 'angel' keeps visiting Steve in the night.
A haunting coming of age story that will hold you captive, The Nest is lyrical, surreal and one of the most moving stories you'll read this year.
Reviews
Victoria
I wasn't sure what to expect when I started reading The Nest; it sounded a little creepy and I thought I may not enjoy it as 'creepy' isn't normally my genre of choice! However, I was soon hooked on what turned out to be a very well-written story, which kept you on the edge of your seat as the tension slowly built. The brilliant illustrations add to the eeriness of the tale creating a haunting picture as the story develops. As a shorter read this is perfect for those wanting a great story that doesn't take too long to read.
The Nest is told through the eyes of a boy called Steve, whose mother has just given birth to his baby brother, Theo, who was born with very severe health problems. The implications of this are not quite clear but you know he is not going to be 'normal' if he survives at all. And actually this story very cleverly looks at what does 'normal' mean anyway? Steve is offered a chance to help 'save' his baby brother by a very unusual visitor, who appears at first in his dreams and seems heaven-sent. But she is no ordinary 'angel' and it soon becomes clear that her intentions are really quite unpleasant.
The story cleverly weaves between the fantasy and the reality of the situation and you're never quite sure what is 'real' and what is a nightmare.... I found the hero of the tale very likeable, immediately connecting with his plight and it was his voice that kept me reading. Steve is a boy who has had his own anxieties to face and now he is trying to help his new brother and indeed, his whole family, but he is not sure what the 'right' thing to do is.
His relationships with those around in him in what is a very difficult situation - facing the fact that the newest addition to the family is potentially facing a life limiting disability - are totally believable and as you would imagine them to be. The author paints the picture of emotions that Steve's parents are feeling simply and beautifully, which I found very moving. Steve's younger sister provides a balance to this with an element of light-heartedness and although at first she doesn't seem to have much of a role in the plot, a surprise towards the end creates a clever twist.
It's not really until you get to the end of the story you realise you have read something that deals with many issues at once; anxiety, illness, family relationships, facing your fears, hope even at the darkest of times. And I think that's the cleverest thing about it; it's a fable for anyone facing something out of the ordinary, it's about being brave and making a choice and standing by that choice no matter what. Read The Nest. You won't ever look at a wasp in the same way again!
244 pages / Ages 12+ / Reviewed by Victoria Dilly, school librarian.
Suggested Reading Age 11+
Other titles