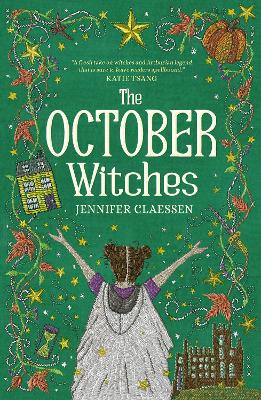 By Author / Illustrator
Jennifer Claessen
Genre
Fantasy
Age range(s)
11+
Publisher
UCLan Publishing
ISBN
9781912979905
Format
Paperback / softback
Published
01-09-2022
Synopsis
There's so much to love about October - Halloween, pumpkin everything and MAGIC. Especially magic. But for nervous young witch Clemmie, this October might see the stars descend on her for the first time, bringing with them a whole month of chaotic new power. She's spent twelve years watching her mum, aunts and cousin receive their October power and knows that, for the Merlyns, magic can get very messy.  And there are those who want to harness their magic and make it last beyond October. It's a bold experiment, until Clemmie and her coven find themselves in mortal danger. What price must be paid for magic that never ends? Or for having magic at all?
Reviews
Clair
The October Witches is a truly wonderful book - the perfect read for those 'ber' months. It is full of magic, gigantic pumpkins, and a bumbling postman who somehow makes his way through the magic force field which surrounded the Merlyns' house to deliver the parcels. There is also a tiny magical pony that Clemmie keeps in her pocket.  Clemmie is the youngest Merlyn daughter and has yet to receive her magical powers. She is hopeful that this October, the stars might descend on her for the first time. As a new witch she knows that her power may be unpredictable and difficult to control.
We learn of a family rift between the Merlyns and the Morgans, the two branches of the family tree. In the past this resulted in the two families only being able to use their magic during the month of October but, as Clemmie receives her magical stars, she can now form the fifth point of her family star which will enable her mother and aunts to channel their magic into a vessel that could make their magic last all year round. This bold experiment to harness their magic lands the coven in mortal danger. The Morgans notice the magic shift and the family is in peril.
The October Witches is a cosy read to curl up with and enjoy. I loved the relationship between the characters and the aunts were wonderfully described. I particularly liked Aunt Prudie! Their individual personalities really shone through. I loved the way that Mirabelle used her magic to divide their one bedroom into two and give it a complete makeover. The friction between the Merlyns and the Morgans meant that the plot became quite fast-paced and I was turning the pages quickly - though I didn't want the book to come to an end. I really hope there is a sequel!
352 pages / Ages 10+ / Reviewed by Clair Bossons, school librarian
Suggested Reading Age 11+
Other titles