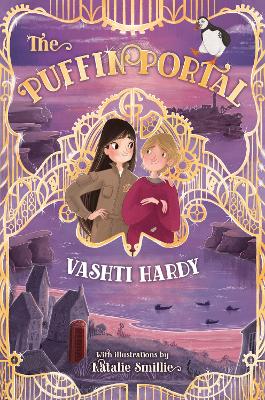 By Author / Illustrator
Vashti Hardy, Natalie Smillie
Genre
Mystery & Detective
Age range(s)
9+
Publisher
Barrington Stoke Ltd
ISBN
9781781129814
Format
Paperback / softback
Published
02-09-2021
Synopsis
Grace's family are wardens of the incredible Griffin Map, using its teleport technology to fight crime across Moreland. Right now it's all systems go at Griffin HQ, where Grace, her mum and her brother have their hands full answering a huge number of calls for help. They could really do with another warden on the team - but Mum believes their important work should be kept inside the family. Meanwhile, Grace is investigating a series of puzzling petty thefts. The clues lead her to a ramshackle castle on a lonely island, where the mystery only deepens. Will Grace be able to track down the thief?
Award-winner Vashti Hardy celebrates kindness, found family and brilliantly inventive kids in this mystery-led, steampunk companion to The Griffin Gate. This book features a dyslexia-friendly layout and font, and illustrations throughout so that even more readers can enjoy it.
Reviews
Beverley
Grace Griffin is a warder of the Griffin Map. Using its teleport technology, Grace helps to fight crime across Moreland. Her mother, Ann and brother, Bren are also wardens, and all three Griffins are very busy as they are experiencing more than the usual number of calls for help and the three of them are struggling.
Grace is currently investigating a number of unusual petty thefts; why would anyone want to steal a loaf of bread, a tube of glue, or one pint of milk? There have also been reports that a puffin has been seen near the location of some of the burglaries. So, along with the family's robot raven, Watson, Grace sets out to solve the puzzle. Along the way she meets the mysterious Tom, who lives in a ruined castle on Eely Island. Why is he there? Where are his parents? And why does a trail of puffin footprints lead to the castle?
The Puffin Portal is the second book in the Grace Griffin series, and Vashti Hardy has once again excelled herself! This is such a perfect little adventure story, beautifully written and plotted. Beginning with the theft of a simple can of oil, the author launches us into a wonderful quest, in which we encounter puffin thieves, a dilapidated castle, a talking raven and fantastic technology. Grace is a fantastic character, brave and fearless. She is intrigued by Tom and his situation, admiring his technical abilities and wanting to help him find a better life.
As with any Barrington Stoke publication, the book is presented in a dyslexia-friendly format, making it perfect for struggling and reluctant readers. However, this is such an engaging tale that I feel it will appeal to all readers aged eight and over. The beautifully atmospheric illustrations by Natalie Smillie are a perfect addition to this lovely tale. A strong theme of family runs throughout the book, and in the end we learn that you do not have to be born into a family to be part of one. The story concludes in a very satisfying manner, and I am already looking forward to Grace and Tom's next adventure in Moreland. Another triumph for Ms Hardy!
112 pages / Reviewed by Beverley Somerset, school librarian
Suggested Reading Age 9+
Other titles