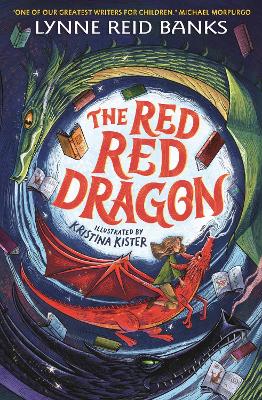 By Author / Illustrator
Lynne Reid Banks, Kristina Kister
Genre
Magical Realism
Age range(s)
9+
Publisher
Walker Books Ltd
ISBN
9781529507799
Format
Hardback
Published
03-11-2022
Synopsis
From a multi-million-copy-selling author whose work spans seven decades comes a humorous and warm-hearted story about a family of dragons in a world where humans have always been a myth ... until now.
Red is a rare red dragon who lives with his Mag and Dag in a world where dragons and Uprights are sworn enemies. Then Red meets his first Upright, a girl called Lou, who is nothing like he had imagined: she's smart, and funny ... and kind! As the pair become friends, Red learns that not only can the two species live in harmony - but maybe it's his destiny to bring them back together.
Reviews
Janet
Red the dragon is born into a world where dragons speak and think, communicate and live by an admirable code, faraway from the 'uprights' whom they fear and whom they think have suffered badly from an overheating of the world.  Red is an unusual colour for a dragon and he has an inquiring 'think-space'.  Red and his parents are sent on a mission, to find coal, which dragons need for obvious reasons.  This is a dangerous assignment and proves to be so as they encounter the 'uprights' of whom they are afraid and who are afraid of them.  Gradually, Red and one of the 'uprights', Lou, develop a relationship exploring each other's worlds and after an encounter with another settlement, there is a realisation between the two protagonists that there is a better way than war. 
This is a many layered novel as one would expect from such an experienced writer, exploring many themes.  There is a mention of climate change, but mostly it is a story of two races unable to live side by side.  The dragons have evolved, being able to speak and think, although the concept of books and the written word is completely foreign. At first it seems the language they use is a little twee but then it grows on the reader and its use becomes quite understandable and logical.  There are lovely touches as Lou knows her Shakespeare and quotations appear throughout the text, and books are reverently appreciated.
Red's parents' great fear of the uprights, however, makes them revert to being dragons and Lou shows enormous courage in approaching them.  The uprights in the other settlement give the reader a glimpse of how dragons had been treated, subjugated, undragoned,  and used to draw vehicles.   As the story progresses, so the reader has to grasp the depth of the plot; that this is not a simple adventure story but contains a message for our time.  There is a lovely phrase in the text; "things are only impossible until someone does them".
The black and white illustrations by Kristina Kister appear plentifully throughout the book and add immensely to the drama unfolding, and the cover shows the story to come.  This would read aloud beautifully, dare I say it make a terrific animated film and readers of 8+ will love it!
368 pages / Reviewed by Janet Fisher, school librarian
Suggested Reading Age 9+
Other titles