The Secret Animal Society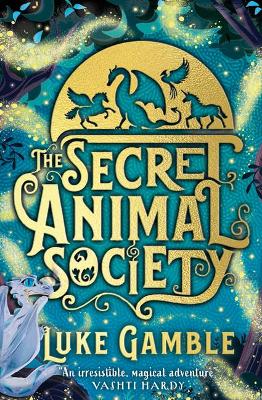 By Author / Illustrator
Luke Gamble
Genre
Animals
Age range(s)
9+
Publisher
Scholastic
ISBN
9780702309618
Format
Paperback / softback
Published
07-10-2021
Synopsis
A thrilling magical adventure, perfect for animal lovers! The debut novel from real-life vet Luke Gamble, as seen on Sky TV. 'An irresistible, magical adventure' Vashti Hardy, author of Wildspark.
When Edith Wight is sent to spend the summer with her eccentric uncle, she has no idea what is in store. Her uncle, the Doctor, runs a vet practice in a remote part of the New Forest, shrouded in secrecy. The reason for the mystery surrounding it, Edith discovers, is none other than the protection of some of the Earth's most unusual animals - creatures that most believe only exist in folklore. Then the Doctor receives a summons from the Himalayas to help a family of yetis and Edith finds herself on the voyage of a lifetime. But Edith and the Doctor are not the only ones taking an interest in the yetis... The Doctor's old enemies, the Syndicate, are on a mission to hunt down every last mythical creature on Earth.
As seen on prime-time Sky TV shows Vet Adventure and World Wide Vet, vet Luke Gamble is committed to the protection of animals worldwide. Classic storytelling combined with a passionate message about the protection of endangered species. The stunning first book in a new series for fans of Dr Doolittle, Fantastic Beasts and Where to Find Them and The Polar Bear Explorers' Club.
Reviews
Donna
Two things jumped out at me before reading this book – Himalayas and Yeti! After reading the two books in the series The International Yeti Collective by Paul Mason, I have loved the idea that Yetis have mysterious jobs in the world. Therefore, knowing that this book contained Yetis, I couldn't wait to start reading it.
Edith Wight (Edie) is at boarding school due to her parents travelling all over the globe with their exciting jobs. She has 'episodes', which are headaches that cause her to sometimes pass out. As the summer holidays approach, Edie receives news that her parents are missing somewhere in the Amazon. She is to spend the holidays with her uncle. Edie didn't even know she had an uncle!
When the taxi drops her off in what looks like the middle of nowhere, Edie wanders through the gate of Forest Cottage and encounters quite a magnificent animal!! It is at this point that she blacks out with one of her episodes. When she comes round, she is on a large sofa and is being looked after by 'Betty' (Lady Elizabeth Beatrice Violet Thornfrulnaught), her uncle's housekeeper. It takes quite a while before Edie meets her elusive uncle. There are places which are out of bounds and events leading up to reveal what is causing her 'episodes', and the sinister Syndicate!  The arrival of a mysterious letter leads to Edie and her uncle's departure to the Himalayas, where they encounter ruthless hunters and must do what they can to save the remaining Yetis!  The book includes lots of adventure and amazing characters – my favourite has to be Rakshed the bharal!
The Secret Animal Society would be ideal for using as a class novel (or just to include in the collection of class topic books for free choice) when teaching topics which cover endangered species and the horrendous impact poachers/hunters have on the environment. It could easily go alongside other books such as Saving Sorya - Chang and the Sun Bear and both International Yeti Collective books. 
379 pages / Reviewed by Donna Ritchie, teacher.
Suggested Reading Age 9+
Other titles