The Secret of Haven Point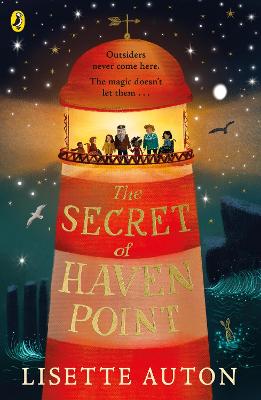 By Author / Illustrator
Lisette Auton
Genre
Representation & Inclusion
Age range(s)
9+
Publisher
Penguin Random House Children's UK
ISBN
9780241522035
Format
Paperback / softback
Published
03-02-2022
Synopsis
'I was Haven Point's first Wreckling, but I certainly wasn't the last. There are forty-two of us now, not including the mermaids. When you're a Wreckling, you mainly spend your days squabbling, eating and planning adventures. Oh, and Wrecklings also carry out wreckings, which is how we got our name . . .'

Washed up as a baby beside a remote lighthouse and raised by a mermaid, Alpha Lux was the first foundling at Haven Point. Now the lighthouse is a ramshackle home for any disabled person who needs somewhere to belong. Looting from passing ships to make a living, they call themselves the Wrecklings, and for the children of Haven Point life is spent adventuring on the wild shore (and getting into trouble with the grown-ups).

But when Alpha spots a strange light up on the headland, she realizes that her beloved family are in danger of being discovered by Outsiders.  With their home under threat, the Wrecklings must decide what kind of future they want . . . and what they're willing to do to get it.
"A charming tale of found families and mermaids, with my favourite kind of hero at its heart"
- Elle McNicoll, award-winning author of A Kind of Spark.  A stunning literary adventure from an incredible debut talent, perfect for fans of Kiran Millwood Hargrave, Cerrie Burnell and Katherine Rundell.
Reviews
Kelly
The Secret of Haven Point is the perfect addition to the well-being section of any bookshelf. I could not put it down. Unveiling disability; putting it in the spotlight, where it belongs, out in the open for all to admire its hidden beauty. It reminds me of Wonder and a quote springs to mind: 'Why blend in when you were born to stand out?'
Cast away like a piece of rubbish, Alpha has been raised in a secret, magical haven by Cap'n and mermaid surrogate mam, Ephyra. A place protected from outsiders, where those who feel they don't fit into society's view of normal belong. However, peace is soon threatened by an unexpected arrival who has somehow broken through the boundaries, and doubt lurks in the shadows. What secrets does Haven Point conceal? Can they keep them a secret forever?
This book delves into friendship, belonging, trust and inclusion. A must-have story for all bookshelves. A book for children to see themselves represented, find solace and understanding. For others, it will help build empathy and acceptance in a world that is full of magic, confusion and twists.
400 pages / Reviewed by Kelly Buxton, teacher
Suggested Reading Age 9+
Other titles