The Secret of Splint Hall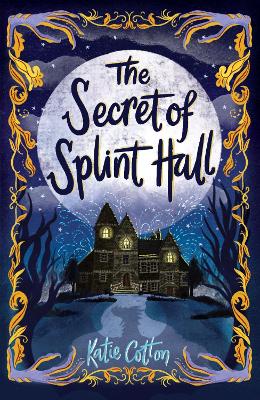 By Author / Illustrator
Katie Cotton
Genre
Historical Fiction
Age range(s)
9+
Publisher
Andersen Press Ltd
ISBN
9781839131967
Format
Paperback / softback
Published
03-03-2022
Synopsis
1945. War has ended, but for sisters Isobel and Flora the struggles still continue. They've lost their father and had their home destroyed in a bombing raid, and now they must go to live with their aunt and her awful husband Mr Godfrey in their ancestral home, Splint Hall.   From the moment of their arrival it seems that this is a place shrouded in mysteries and secrets. Who are the strange men who arrive with packages at night? What is the source of the strange blue sparks coming from the ground? And why do the locals seem to hate their family so much? As the girls begin to unearth an ancient myth and family secret, the adventure of a lifetime begins.
Video & Q&A with author Katie Cotton
Reviews
Kelly
The Secret of Splint Hall is a fascinating historical mystery where ancient myths converge with devastation in the aftermath of war. A story about the secrets hidden in the depths underground and the strength, bravery and determination of two sisters who are about to have the adventure of a lifetime.
Sisters Isobel and Flora have lost nearly everything to the war and now they must leave their home to live with their aunt and her horrifying husband in their ancestral home: Splint Hall. The minute they arrive, strange happenings begin to occur and the girls unearth an ancient myth and family secret that has been buried for years.  It is the story of the end of war told through the eyes of children. When adults say the war is over, can you really believe them? When the end of war is announced, will you find the strength to fight the next battle?
The Secret of Splint Hall would suit those learning about or intrigued by WWII and mythical beasts. It delves into themes of war, family and devastation whilst building friendships, teamwork and community.
320 pages / Reviewed by Kelly Buxton, teacher
Suggested Reading Age 9+
Jacqueline
The War may have ended but its effects are still being felt. Isobel and Flora, for example, have lost their father and their home during the war. So, now they are going with their mother to live at their mother's childhood home with their Aunt Bea and her husband.
Almost immediately the girls realise that, not only is there something strange about Splint Hall, but that their uncle is a truly vile man. He controls Aunt Be and rules the house with anger and violence. As Isobel and Flora begin to uncover the secrets of Splint Hall, their uncle becomes more and more difficult. Soon the mystery surrounding the Hall and their uncle's outbursts will collide and something most unexpected will occur.
The Secret of Splint Hall is a hybrid story, both history and fantasy. This combination makes it seem almost possible that it is true and that this sort of life and death struggle might really be taking place right under our noses. Particularly poignant at a time of war, this book explores the aftermath of war and how it is never really over, even when the fighting appears to have ended.
Isobel and Flora are quite real sisters, used to the War and still suffering from a legacy of violence through bombs and death. The claustrophobia Isobel experiences mimics the real effect of air rai shelters. My own mother, for example, is still very claustrophobic even decades after the war she experienced.
Becky Thorns captures the mood of the story perfectly with an atmospheric cover. The impact of the fantasy woven into a historical novel is to make the reader really think about these legacies and how war can really be carrying on, long after the ceasefire has happened.
320 pages / Reviewed by Jacqueline Harris, teacher
Suggested Reading Age 9+
Other titles