The Secret of the Treasure Keepers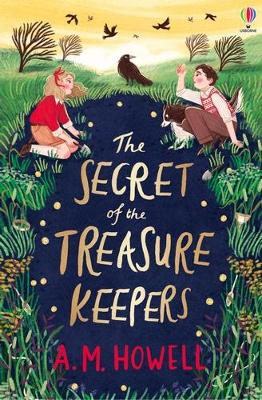 By Author / Illustrator
A.M. Howell
Genre
Historical Fiction
Age range(s)
9+
Publisher
Usborne Publishing Ltd
ISBN
9781474991117
Format
Paperback / softback
Published
31-03-2022
Synopsis
From the bestselling and award-winning A.M. Howell, author of The Garden of Lost Secrets and The House of One Hundred Clocks, comes a brand-new thrilling historical mystery of stolen treasure, friendship and deep courage set in the immediate aftermath of the Second World War.
February 1948.  Ruth has been whisked off to the lonely Rook Farm to investigate the discovery of long-buried treasure with her mother. But at the farmhouse, she finds secrets lurk around every corner. Joe, the farmer's son, is hiding something about the treasure, while land girl Audrey watches their every move. But before Ruth can find out more, the treasure is stolen... With a storm coming, Ruth must race to uncover the secrets of the treasure keepers before all of their lives are changed forever.
Find out more in this video by author AM Howell
Reviews
Kristen
The Secret of the Treasure Keepers is set just after World War II and is a compelling story of friendship and mystery with likeable and intriguing characters.
The story opens with Ruth waiting for her mum, Harriett, to come out of an interview at the British Museum. Harriett volunteers there already, but is hoping to be offered paid employment in archaeology - but is turned down as she doesn't have enough experience. Whilst waiting for her mum, Ruth answers the phone in the office and takes a call from a Mrs Sterne who lives on a farm in the Cambridgeshire Fens and believes she has found some treasure on her land. She wants the museum's help with valuing it. 
Instead of passing on the message, Ruth tells her mum, who hatches a plan to travel to Cambridgeshire and help Mrs Sterne with her treasure, whilst in turn hoping to impress the museum enough to give her the job. Ruth and her mum receive a warm welcome from Mrs Sterne and Audrey, but are met with a frosty welcome from Mary's son, Joe.
I don't want to give away any more of the story, but this was such a delightful read! I love how the relationship between Ruth and Joe develops and changes over time. I raced through this book as I was so desperate to find out what happened. The characters were intriguing and so much happens in a short space of time - there were certainly plenty of secrets to reveal!
The historical setting was spot on and I think this would make a great alternative read during the World War II topic I do with my Year 6 class.
336 pages / Reviewed by Kristen Hopwood, teacher
Suggested Reading Age 9+
Other titles