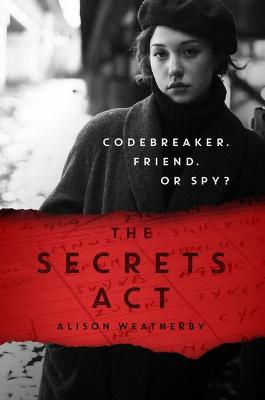 By Author / Illustrator
Alison Weatherby
Genre
Historical Fiction
Age range(s)
14+
Publisher
Chicken House Ltd
ISBN
9781913322991
Format
Paperback / softback
Published
06-01-2022
Synopsis
Codebreaker. Friend. Spy? A thrilling, nail-biting YA mystery with themes of friendship, loyalty, secrets, and a dash of romance. Wartime.  The Secrets Act follows two young women, Pearl and Ellen, who are recruited to work at Bletchley Park during the Second World War Set in atmospheric 1940s England, and also explores serious historical themes. Perfect for fans of Code Name Verity
Pearl and Ellen work at top-secret codebreaking HQ,Bletchley Park. Pearl is the youngest. A messenger at sixteen, she's untidy, lively, bright, and half in love with the wrong boy, Richard. Her circle of friends overlaps with his - the dashing young men on their motorcycles who courier the secrets that Bletchley deciphers. Ellen is a codebreaker. Reserved, analytical and beautiful. She never expected to get close to a girl like Pearl - or fall for a chap like Dennis. But when tragedy strikes, their logical world is upended, with both friends caught in a spy plot that rocks the very heart of the war effort. Who can they turn to now? Who can they trust? And above all, can they unmask the traitor in their midst before it's too late?
Reviews
Jacqueline
In The Secrets Act, Ellen starts working at Bletchley during World War II. The atmosphere is tense, and she is part of a vital war effort. On her first day she meets Pearl, already working at Bletchley and the two strike up a nervous friendship. Everything has to be kept secret, they cannot even talk to each other about the work they do as they have signed the Official Secrets Act. Then a terrible tragedy strikes, and the young women realise that there is more than meets the eye to this supposed accident. Who can they trust, and can they even trust each other? In this time everyone could be a danger and they have to try and work out what has happened before it is too late, and the Germans find out vital secrets.
This YA book was discovered during 2020 Chicken House open submissions and explores themes of friendship, secrets and romance in an exciting historical novel. Ellen is presented as neurodivergent and both young women, only in their teens in this story, are shown as gifted mathematicians and problem solvers. Whilst I worked out who the spies were from the off, this did not diminish how exciting and tense the story got, particularly towards the end. If it had been on TV I would have been screaming at the characters not to do what they did as it was clear who the villain was and who should not be trusted!
This book will add to the canon of children and YA literature covering this period. The war itself remains in the background; this story is all about the life of the young women working at Bletchley who made a difference in the outcome of events, and it is a fitting tribute. 
368 pages / Reviewed by Jacqueline Harris, teacher
Suggested Reading Age 14+
Other titles