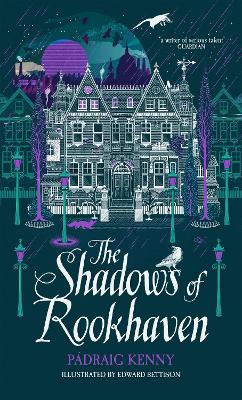 By Author / Illustrator
Padraig Kenny
Genre
Family & Home
Age range(s)
9+
Publisher
Pan Macmillan
ISBN
9781529031713
Format
Hardback
Published
30-09-2021
Synopsis
Padraig Kenny's The Shadows of Rookhaven is a story about family and forgiveness, the sequel to The Monsters of Rookhaven.

Shadows are gathering over Rookhaven.  It is the time of The Great Configuration, a once in a hundred years event. Family and monsters descend on Rookhaven from all over the country to take part. But amid the guests there is an interloper. One who is disguised and has an eye on their destruction.  Meanwhile Mirabelle - part human, part monster - discovers that to those from outside Rookhaven, she is not considered family at all... and, forced to search further afield for knowledge of her true history, she risks everything - and everyone.

Praise for The Monsters of Rookhaven:  'A stunning book . . . a brand new take on the monster story' - Eoin Colfer, author of Artemis Fowl
Reviews
Jacqueline
Every one hundred years The Great Configuration occurs, when all the Family travel to Rookhaven to take part. When Billy turns up no-one is surprised because there are lots of visitors arriving. Billy, however, is hiding something and could be about to betray the family. He is like Mirabelle, half human, half monster, always feeling different and an outsider. What he finds at Rookhaven makes him hesitate to betray them. He also finds a friend in Mirabelle. Can he bring himself to do the task he has been set? And what will be the result if he does?
I confess I'm something of a Padraig Kenny fan. His first book Tin remains one of my all-time favourites, and once again he has created something special. It is such a treat to revisit Rookhaven and the Family, though this book has a different tone to the first Rookhaven book. This is about family, friendship and belonging or being an outsider. Here, family does not necessarily mean blood relatives, but those who you are close to. What would you do to protect the ones you love? Many have gone to incredible extremes to keep the people they love safe and this story is all about that.
Once again, the extremely talented Edward Bettison has illustrated the story. From the cover to the tiniest picture inside the illustrations seem to capture the essence of the story and add to the pleasure of reading. The whole book has a gothic, Autumnal feel and is a perfect read for colder days and longer nights. And yes, I still love Piglet, but I remembered how much I liked all the characters as I read this sequel, not monsters, but family and old friends.
352 pages / Reviewed by Jacqueline Harris
Suggested Reading Age 9+
Other titles