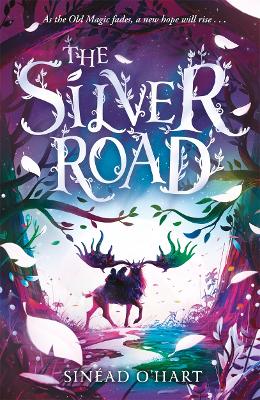 By Author / Illustrator
Sinead O'Hart
Genre
Magical Realism
Age range(s)
9+
Publisher
Templar Publishing
ISBN
9781800785090
Format
Paperback / softback
Published
28-09-2023
Synopsis
Myth and magic combine in this unforgettable adventure drawing on Irish folklore, from award-winning author Sinead O'Hart.  The seandraiocht - the Old Magic - isn't remembered like it once was. Its power is fading...  
When Rose is entrusted with a powerful stone by a Frost Giant, she is swept into an adventure full of danger. The stone can be used for great good or great evil, depending on its keeper. It leads Rose to discover the magic that runs through all of Ireland. A magic that is threaded together beneath the land: the Silver Road. But the Silver Road is under threat.  Now Rose must keep the stone from falling into the wrong hands and embark on a quest to find its rightful owner and keep the magic alive . . .

A stunning new fantasy adventure for children, drawing on Celtic folklore. Perfect for fans of Catherine Doyle and Ross Montgomery.
Reviews
Jacqueline
Rose is unhappy at her new secondary school. She is bullied by Emer and her friends and is utterly miserable. Her only friends are the elderly couple who live and work on the road on her way home. Then one night Rose is faced with an Ice Giant who gives her a stone and tells her to guard it. Rose is plunged into an adventure of ancient legends and finds that a huge and terrifying giant is waking up and about to destroy everything and everyone she loves.
The Silver Road takes you into a world of Irish myths and legends and brings terrifying giants and witches to life. Some of the scenes are so fast-paced and breath-taking, as Rose takes on the terrible threat, that I literally could not put the book down. I always have a soft spot for exciting fantasy and this one ticks every box. Even the cute not-quite-a-cat creature has another side to it, and the legends of the past are literally brought to life.  The cover and illustrations by Manuel Sumberac are a perfect fit. I particularly liked how the page edges seem to grow and come to life as the story progresses.
This is a book for everyone who likes myths and legends and enjoys an exciting adventure that will whirl you away in a cloud of magic.
352 pages / Reviewed by Jacqueline Harris, teacher
Suggested Reading Age 9+
Sue
Rosaleen Darke-Rose is struggling at her new school. Tormented by Emer McGuire and her 'fan club' for being a scholarship pupil, Rose is also still grieving the loss of her Mamó, who she misses desperately. Taking the long way home from school, however, has the benefit of taking her past the shops of Gracie and Nellie with whom she has developed a friendship. Unable to sleep one night, Rose hears noises and finds herself facing an ice giant, who entrusts her with a powerful stone which Rose must keep from falling into the wrong hands. Luckily Gracie and Nellie are not quite what they seem and are able to explain to Rose that she has been chosen as the stone's guardian. As the Old Magic is weakening, evil is rising and Rose finds herself on a breath-taking quest to protect the Silver Road and the magic than runs through the land.
Well, what a story this is! Any attempt at a summary seems clumsy and cannot possibly capture the essence of this wonderful tale. Drawing on the age-old mythology of Ireland, The Silver Road offers the perfect starting point for introducing readers to this wealth of stories whilst appreciating Sinéad's skill as a storyteller as she adds plenty of imagination and flair of her own.
I was captivated from the outset and could not put the book down and since finishing, have been inspired to revisit some of the old tales. Rose is a brilliant character. Fresh and uncomplicated, she just wants to fit in and do her best. Although she has a loving, supportive family, like many, she doesn't want to add to their worries by sharing her problems, particularly as her dad's employer is Emer's dad. She escapes into her books, but also takes comfort from the friendship she forms with Gracie and Nellie. They are incredible souls, not just because of their magic, but because of the kindness they show - and their love of cake! Catshee, the cat not-cat, is possibly my favourite character, however, and shows how skilfully the author blends the traditional and the newly imagined to make a tale of wonder.
The Silver Road whispers to the reader of so many things - the importance of our environment, the magic of the old tales, our connection to the land and to one another, the importance of family, finding the strength to be yourself and have the determination and courage to face things life throws at you. It is a brilliantly crafted tale and I loved it. It would make an excellent guided reading text for the 'right' group of children or a gripping class story. So much to love!
352 pages / Reviewed by Sue Wilsher, teacher
Suggested Reading Age 9+
Other titles