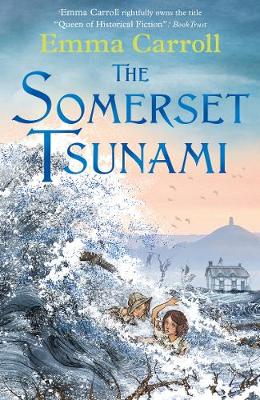 By Author / Illustrator
Emma Carroll
Genre
Historical Fiction
Age range(s)
9+
Publisher
Faber & Faber
ISBN
9780571332816
Format
Paperback / softback
Published
03-10-2019
Synopsis
A sinking boat. A girl in disguise. A disappearing sea....  When Fortune Sharpe carves a boat from a tree with her beloved brother, Gem, she's only having a bit of fun. But now is not the time for a girl to be drawing attention to herself. She is sent away to find work dressed as a boy. Luckily a rich manor house is hiring. Yet Barrow Hill's inhabitants harbour dangerous secrets of their own, the suspicious owner is hunting for witches, and the house itself is a little too close to the sea.
Reviews
Janet
Set in the Somerset Levels in 1616, and based on the actual event of a tsunami in January 1607, Emma Carroll's The Somerset Tsunami tells of a girl, named Fortune, living in a village of women but for one male, her brother Jem. But these are difficult times and the Protestants have considerable power in the country and when the two are seen sailing in a boat they had made themselves on a Sunday, their mother decides Fortune must leave the village for her own safety.

Dressed as a boy, her preferred form of clothing, Fortune is picked by Mr Spicer to be a manservant to his son Ellis, at the hiring fair in Bridgewater. Like Fortune, Ellis wants a different path in life, to be an acrobat, which is not at all what his father wants. Mr Spicer is involved in the sugar trade with Dr Blood and when Ellis disappears, and the tsunami takes Mr Spicer away, a pattern of events which will change Fortune's life forever takes hold.

This historical novel first of all needs a sense of place and Emma Carroll has caught the Somerset Levels exactly, the reader can almost smell the water. The feel of the period is of course crucial and, along with the poverty and the daily work of finding enough food to scrape a living, you have the ignorance and suspicion of the time which makes any female who is different in any way liable to be called a witch and put to the drowning test, which is so well described. This fear permeates the story to the very end.
Fortune is a plucky heroine, but not as independent as she would like to think she is, bound by her love for her brother, and the unexpected love for Bea, the little baby whom she rescues along with Susannah, Ellis' sister. There is no doubting the malevolence of Dr. Blood who, it is revealed, planned along with Mr Spicer to start taking people from Africa to become slaves in the sugar plantations.

This is a very good historical adventure, moving at pace to keep the reader involved, with a heroine who has issues identifiable to girls of today. It is likely to appeal to girls of 12+.

304 pages /Reviewed by Janet Fisher, librarian
Suggested Reading Age 11+
Other titles