The Song from Somewhere Else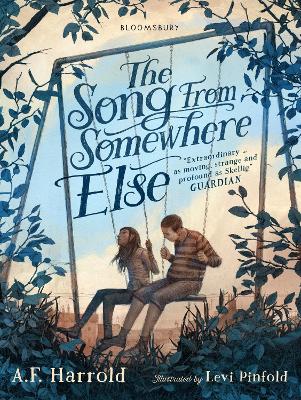 By Author / Illustrator
A.F. Harrold, illus Levi Pinfold
Genre
Friends and family
Age range(s)
9+
Publisher
Bloomsbury Publishing PLC
ISBN
9781408884751
Format
Paperback / softback
Published
02-11-2017
Synopsis
Winner of the Amnesty CILIP Honour for Illustration 2018; Shortlisted for the CILIP Kate Greenaway Medal; Longlisted for the CILIP Carnegie Medal.
Frank doesn't know how to feel when Nick Underbridge rescues her from bullies one afternoon. No one likes Nick. He's big, he's weird and he smells - or so everyone in Frank's class thinks.  And yet, there's something nice about Nick's house. There's strange music playing there, and it feels light and good and makes Frank feel happy for the first time in forever.  But there's more to Nick, and to his house, than meets the eye, and soon Frank realises she isn't the only one keeping secrets. Or the only one who needs help...
A poignant, darkly comic and deeply moving story about the power of the extraordinary, and finding friendship where you least expect it. Written by the author of the critically acclaimed The Imaginary and illustrated by award-winning illustrator Levi Pinfold, this is perfect for fans of Roald Dahl and Neil Gaiman.
Reviews
Caroline
The Song From Somewhere Else is a story that starts and ends with a cat. The disappearance of the family cat starts a series of events for Frank when she runs into the group of boys who have been bullying her for months while putting up missing notices in the local park. Help comes from an unexpected quarter, when she is rescued by Nick Underbridge, an equally sidelined and lonely character. Nick is strange, different from everybody else at school, not someone that Frank would want to be seen with. But gradually as her friendship with Nick develops, she realises that Nick has secrets that have been kept hidden for a long time. There is something unusual about his house, a strange music playing there that she has never heard before but which makes her feel special. The music leads her to discover a window into a strange fantasy world that is bumping into our own. But where worlds collide, there is danger, and unscrupulous beings that do not always have good intentions. Now there are bigger issues than just Nick and his secret, real danger, and Frank has to make the right decisions to prevent disaster.
There is a fairy tale quality to this story, as it deals with some big themes of friendship, loyalty, betrayal, acceptance and being true to yourself. It is about dealing with moral dilemmas and having to make choices, realizing that you can make changes if you have the courage and determination. The beautiful, evocative black and white illustrations by Levi Pinfold throughout the book create atmosphere that help to transport the reader into this magical world.
There is a realistic portrayal of persistent, low level bullying that is believable and the impact on the victim can be understood. It is very satisfying that Frank's courage finally overcomes her fear of the bullies and she learns to stand up to them.
This is a very satisfying read, and will appeal to readers of Neil Gaiman but also of Rebecca Stead.
240 pages / Reviewed by Caroline Gosden, school librarian.
Suggested Reading Age 9+
Other titles