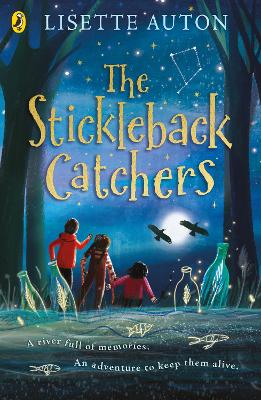 By Author / Illustrator
Lisette Auton
Genre
Friends and family
Age range(s)
9+
Publisher
Penguin Random House Children's UK
ISBN
9780241522059
Format
Paperback / softback
Published
09-02-2023
Synopsis
Mimi adores her wild, fun, full-of-life gran. Then Gran starts forgetting things. Suddenly there are cracks appearing all around their home - and a mysterious black crow - both of which only Mimi seems able to see.

Mimi is determined to solve the mystery. Luckily she has new friends to help: Titch and Nusrat. Together, they're the Stickleback Catchers: solvers of puzzles and seekers of adventure.

Down by the river, where the gang meet and the silvery sticklebacks swim, they discover a mysterious stone, speckled with stars. But this is no ordinary stone: it's the doorway to another world, a world of talking crows and secrets, magical constellations and memories - and maybe, just maybe, Mimi's chance to bring back Gran forever...
Reviews
Beverley
Mimi has been brought up by her grandparents since she was a baby. Now they all live together in a flat over a bowls club in North-East England. Mimi adores her feisty, sparky grandmother, who used to be an opera singer and is a mean skateboarder. So, when Gran begins to behave oddly and forget things, Mimi is devastated. As Gran deteriorates, Mimi begins to literally see cracks appearing in her world. Helped by her friends Titch and Nusrat, the Stickleback Catchers, she is determined to save her Gran, and when the friends discover a way to manipulate time they set off on an incredible and life-changing adventure. Along the way, they meet Fig, a talking raven, and the creepy Void Collectors, wraith-like creatures who guard people's memories.
The Stickleback Catchers is a lovely book, beautifully and sympathetically written. The author has given us a wonderful cast of characters, each with their own disabilities and conditions, which are never fully explained - the author explains why in her authors' notes at the end of the novel.  Mimi is brave and fearless in her determination to rescue her Gran from the cruelties of dementia. She uses crutches to walk but is never depicted as anything other than a fully active member of the Stickleback Catchers. We never find out Titch's gender, and Nusrat has an illness which keeps her confined to bed. United by a love of puzzles, the three friends begin a quest to solve the mystery of the talking crow and the horrible cracks which appear whenever Gran has one of her episodes of forgetfulness.
At the heart of this novel are the themes of family and friendship, and both are dealt with beautifully. Despite her longing to save her Gran, Mimi must ultimately make a choice between her love for Gran and her relationship with Titch. The author deals so sensitively with the subject of a child coming to terms with the illness of a beloved family member, and still manages to give the reader an exciting adventure story. There are some extremely moving moments in the book, but Ms Auton is never maudlin, and the conclusion to the story is very uplifting.
Living in the North- East myself, I recognised many of the places described in the book (everyone should go to Redcar for a lemon top ice cream!) and I felt that the author's love for her home town shines from the pages, even though she changed its name! I feel that this is a very important book; it deals with so many issues and yet the reader never feels that they are being preached to. We accept Mimi, Titch and Nusrat for who they are – children with impairments which do not define them.
It would be wonderful to have another book featuring this intrepid trio! I loved this book, and will definitely be recommending it to everyone I know. I will also remember Gran's moving message to Mimi: "Cracks aren't just darkness, they also let in the light."
400 pages / Reviewed by Beverley Somerset, school librarian
Suggested Reading Age 9+
Other titles