The Stolen Songbird: From the bestselling author of The Accidental Stowaway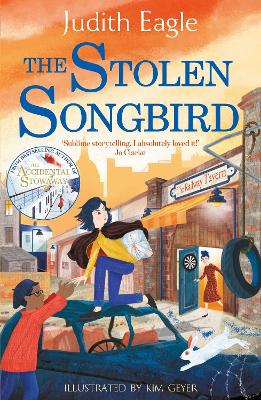 By Author / Illustrator
Judith Eagle
Genre
Historical Fiction
Age range(s)
9+
Publisher
Faber & Faber
ISBN
9780571363148
Format
Paperback / softback
Published
03-08-2023
Synopsis
From the author of The Accidental Stowaway, it's 1950s London and Caro Monday and her friends have become embroiled in a dangerous art heist!

When Caro Monday's mother disappears on one of her jaunts, she has no choice but to go and stay with a miserable woman that she's never met. Not only that but she's told that her beloved rabbit, His Nibs, is not allowed to go with her.    Luckily, Caro's not one for following rules. With her rabbit in hiding, and her wild behaviour getting her into trouble as soon as she walks through the door, Caro is only going to find herself in deeper water. In the lining of her suitcase is a small but extraordinary painting of a thrush . . . a painting that some dangerous art thieves are hunting down!  Can Caro and her friends solve the mystery of the stolen songbird and find its owners before it's too late?

Here ensues an exciting dash across London, with twists and turns as plentiful as the cobbled streets which Caro and her friends must navigate!  Read a Q&A with Judith Eagle about what inspired The Stolen Songbird or enjoy this reading by Judith Eagle:
Reviews
Jacqueline
Caro Monday lives in a pub in Waterloo with her two mothers. One of her mothers runs the pub while the other is a famous whistling star, who travels the world. One day Caro is forced to go and stay with her great aunt who lives in Hampstead. Her whistling mother has disappeared, and Caro has no choice. In her suitcase she finds a mysterious painting, which turns out to be stolen. Suddenly Caro is in deep with a gang of villains and notorious art thieves.
The Stolen Songbird is set in 1959 and makes use of the still undeveloped bombed sites, post war scars and events in Panama, whilst the rest is fiction. This is a good, old fashioned mystery romp, and truthfully it doesn't matter when it is set. It is an enjoyable plot with larger-than-life characters (I particularly liked Horace, Caro's best friend) and a larger-than-life rabbit.
Whilst I guessed the plot quite quickly, I doubt the audience will and this book seems designed to appeal. Kim Geyer's cover and chapter heading illustrations are very attractive and my daughter, who is exactly the target age, couldn't wait to wrest the book from me because of that cover.
This is a really exciting story that would make a good read aloud (stopping at the climaxes of course!), with a suitably satisfying ending. Destined to be a popular pick for Upper KS2.
336 pages / Reviewed by Jacqueline Harris, teacher
Suggested Reading Age 9+
Donna
1940 is where the prologue to The Stolen Songbird begins, where we meet a boy and a girl (no names mentioned - which made it a mysterious beginning). Then a jump to 1959, where we meet a rabbit. The way the author describes this rabbit led me to believe that he had a very important role in the story to come.
The rabbit - 'His Nibs' (what did I tell you??) - is looked after by Caro Monday. She is a very confident, strong main character and one who is given the freedom and trust a girl with such a character needs. She lives in a pub with her two mothers. However, one has been touring the world performing as a famous whistler and was due back, but has not arrived. Her other mum - Ronnie - has to go and look after her sister and so Caro must go to stay with Great Aunt Mary!  Having lost the battle to stay at the pub, off Caro goes to Great Aunt Mary's and this is where the story begins (for a second time).
While the setting of 1959 is some years after the end of WWII, the author shows us that people still suffer from the effects of what they saw during the war. Some (like 'The Snakes' gang in the story) turn to crime to generate income, using the lingering images of the enemy to threaten. Others, such as Victor, left their family just because they couldn't cope - what we now know as PTSD. London itself was a place in which food supplies were still getting established (the grocer selling carrot tops, cabbage leaves etc). However, it also provided exciting places for children such as Caro and Horace to play, 'The Rubbles' (the name says it all)  being their favourite!
Against this backdrop, the action never stops and just when you think you have guessed the ending....well, that goes and happens!  I loved how Judith Eagle kept the twists coming all the way through the book (there are many).  I also loved how Caro's relationship with Albie ( who is being looked after by Great Aunt Mary) develops through the story and the way his confidence grows just by being in Caro's presence. 
The Stolen Songbird is a must-read for anyone who loves a story where they are allowed to try to guess what will happen, try to figure out who people really are, and why they behave as they do. Thank you Judith Eagle, for giving us a strong, determined, older-than-her-years heroine.
336 pages / Reviewed by Donna Ritchie, teacher
Suggested Reading Age 9+
Other titles