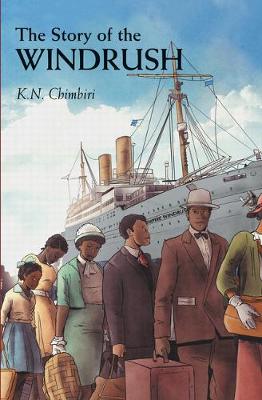 By Author / Illustrator
K. N. Chimbiri
Genre
Representation & Inclusion
Age range(s)
9+
Publisher
Scholastic
ISBN
9780702307133
Format
Hardback
Published
15-10-2020
Synopsis
The story before the scandal. A book to celebrate the inspiring legacy of the Windrush pioneers. In June 1948, hundreds of Caribbean men, women and children arrived in London on a ship called the HMT Empire Windrush. Although there were already Black people living in Britain at the time, this event marks the beginning of modern Black Britain. Combining historical fact with voices from the Windrush Generation, this book sensitively tells the inspiring story of the Windrush Generation pioneers for younger readers.
Reviews
Elen
We are all now, sadly, familiar with the recent history of the 'Windrush generation' through headlines about the poor treatment the group has faced in recent years - but information about why this generation chose to come to the UK is often overlooked.

The Story of the Windrush by KN Chimbiri, therefore, fills a useful gap in many children's - and adults' - knowledge of the facts behind the headlines, and how the Windrush's arrival - and other ships like it - marked the beginning of modern Black Britain.

The book puts the Windrush's journey into context; we learn how the colonies contributed to Britain's war efforts during the WWII, and that people in the colonies were invited to come back to Britain to help rebuild the country after the war. We also find out about some of the individuals who answered that call, and why they decided to come - from those like Sam King, a Jamaican who had fought in the RAF, to Mona Baptiste, a famous singer and musician from Trinidad. We also find out the kind of barriers they had to face once they arrived here.

The book is presented in the format of a traditional Ladybird book; a small hardback with well spaced text and useful maps, photographs from the time and illustrations, making it an easy-to-follow and interesting read for those aged seven to 12 years; the extent of the former British Empire, for example, might come as a surprise to some, and the photographs from the time are enthralling. There is also a glossary and a timeline at the back, together with some sources for extra research, to follow on from what we learn in the book.

Both interesting and useful, I hope that this snapshot of the Windrush's history will be shared as much with children and families who are less familiar with the Windrush's story as those children and teenagers whose family members or friends made that journey; it will undoubtedly engender a sense of pride in what their forebears achieved, despite all the barriers they faced.
48 pages / Reviewed by Elen Green
Suggested Reading Age 7+
Other titles