The Strangeworlds Travel Agency: The Edge of the Ocean: Book 2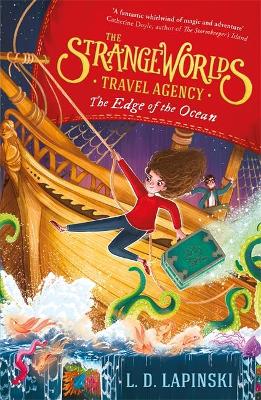 By Author / Illustrator
L.D. Lapinski
Genre
Magical Realism
Age range(s)
9+
Publisher
Hachette Children's Group
ISBN
9781510105959
Format
Paperback / softback
Published
15-04-2021
Synopsis
Pack your suitcase for a magical adventure!

At the Strangeworlds Travel Agency, each suitcase transports you to a different world. All you have to do is step inside...

Flick is now a badge-wearing member of The Strangeworlds Travel Agency so when an urgent summons arrives at Strangeworlds from Pirate Queen Nyfe, she and Strangeworlds Society guardian Jonathan immediately pack their bags for an adventure to Queen Nyfe's world: The Break, a place of magic and piracy.

Nyfe's world is falling apart. The Break is used to having ships vanish without a trace, but there has been a sudden increase that can't be explained by giant squid or mer-people. The edge of their flat world is coming ever closer to them and they need to escape before it collapses entirely.

But how do you sail a ship through a suitcase? How do you fit a mer-queen the size of a whale into something small enough to carry in your hand? Will Flick and Jonathan be able to find a way to transport the inhabitants of the Break to another world before theirs disappears forever?

A magical adventure for 9+ readers that will take you to whole new worlds, perfect for fans of The Train to Impossible Places and Pages & Co.
Reviews
Kelly
Another triumph for L.D Lapinski in book 2 of The Strangeworlds Travel Agency: Edge of the Ocean. Born out of the pandemic, what better stories to lose yourself in, in times of despair, lockdowns and the unknown? A portal story, that takes Flick, Jonathon and cousin Avery on an adventure to the edge of the ocean.
Summoned by the Pirate Queen, Nyfe, the Strangeworlds trio must step into another world through a suitcase to save pirates and merpeople from a rapidly crumbling world. Time moves quicker at The Break and Flick, who has only just gained back the trust of her parents after her last adventure in book 1, is in a race against the clock. Can she save them from their perilous fate?
Although this is a sequel, each book stands on its own as a separate adventure. Full of mystery, magic and adventure, woven together with themes of courage, strength, friendship and teamwork, Welcome to the Strageworlds Travel Agency is a wonderful escape story that will transport readers into magical worlds beyond their imaginations.
The perfect class reader for Years 3-6 or as an independent read for 9+ to cast off into magical worlds where possibilities are endless. Fans of Narnia and Piers Torday's The Lost Magician will be enticed and enthralled with this modern-day escapism.
272 pages / Reviewed by Kelly Buxton, teacher
Suggested Reading Age 9+
Dan
The flat, circular world of The Break is in trouble. Bits of it keep falling off, and it's getting smaller by the day. Soon, there will be no world left. The inhabitants of The Break, led by Pirate Queen Nyfe, call upon the Strangeworlds Travel Agency to save them!
Flick and Jonathan are back for the second suitcase-portal world-hopping fantasy adventure in The Strangeworlds Travel Agency series, full of pirates and merfolk, magic and intrigue, tragedy and heartbreak, friendship and romance! Due to a disaster that befalls our heroes early on, there is far less world hopping in this book than in the previous novel. Flick and Jonathan, along with Jonathan's cousin Avery, spend the vast majority of the story trapped in The Break amongst the pirates and merfolk, as the world steadily collapses around them. And with their Strangeworlds' suitcase lost, they have no way of rescuing themselves, let alone the rest of The Break. With Jonathan seemingly debilitated by grief, can Flick step up, take charge, save the day, and make it home before curfew to avoid being grounded again?!
The Edge of the Ocean is another fun, exciting fantasy adventure featuring a likeable and relatable cast of queer characters - and this is an important point. While queer characters and experiences are relatively well represented in teen and YA books, middle grade LGBTQI+ offerings remain few and far between. With the Strangeworld's books in the vanguard, this thankfully does seem to be starting to change.
The Strangeworld books would be great to use with classes as a creative writing prompt, asking students what they would use as a portal to travel to other worlds, and how this would shape their stories?
Recommended for fans of magical adventures with heart and soul! Be aware, however, that this is not a standalone novel - I wouldn't recommend it without reading book 1 first.
272 pages / Reviewed by Dan Katz, school librarian
Suggested Reading Age 9+
Other titles