The Summer We Turned Green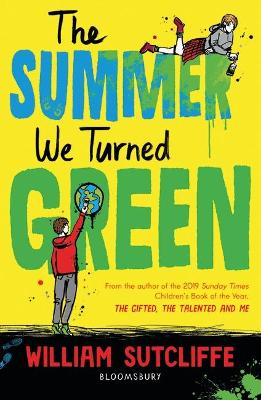 By Author / Illustrator
William Sutcliffe
Genre
Environment
Age range(s)
11+
Publisher
Bloomsbury Publishing PLC
ISBN
9781526632852
Format
Paperback / softback
Published
08-07-2021
Synopsis
It's the summer holidays, and thirteen-year-old Luke has just had his life turned upside down. First his older sister Rose moved 'across the road' - where a community of climate rebels are protesting the planned airport expansion - and now his dad's gone too. Dad only went to get Rose back, but he's out there building totem poles out of old furniture and wearing sandals and drinking mead (whatever that is) with the best of them ... Luke is determined to save his dad, his sister AND his summer. So how does he find himself at the top of a tree refusing to leave until the bulldozers stand down? A fresh, funny, heartfelt look at this generation's must-win battle: one earth, one chance.
Reviews
Katrina
The Summer We Turned Green is an entertaining and appealing story set on a street facing demolishment for an airport expansion. The story follows 13-year-old Luke and his family. When his sister Rose moves across the road to join a commune of climate rebels, his parents and neighbours are appalled. His dad moves over the road too, to 'flush out' Rose, but he soon becomes sympathetic to their cause. Gradually realising the issues facing his generation regarding climate change, Luke and his neighbours join forces with the community in the commune to protest against the expansion.
I really enjoyed this book. Whilst witty and appealing to teen readers, the book covers so many important aspects facing society today in regard to the climate crisis. It imparts the fact that everyone needs to do something now; tomorrow is too late. The plot also has great themes of teamwork, acceptance, friendship, being non-judgemental, as well as the importance of peaceful (non-violent) protest.
Through his writing, William Sutcliffe has successfully made an important topic accessible and enjoyable to read about, which is key in promoting the message to the generation for whom it most affects. An amusing and heartwarming, but powerful book. Curriculum links - Science, Geography, PSHEE.
352 pages / Ages 10+ / Reviewed by Katrina Waldron, school librarian
Suggested Reading Age 9+
Clair
13-year-old Luke has been brought up to be kind and generous. He wasn't to know that lending his sister Rose a sleeping bag would enable her to move out and into the squat over the road or that his Dad would follow her… This is a really heart-warming story. It is very contemporary with the recent extinction rebellion protests on climate change.
The Summer We Turned Green is an amusing story of an environmental protest set in a suburban setting. It tackles some stereotypes and misconceptions with the residents initially being very wary of the protesters but becoming less fearful once they get to know them. "Since the protesters moved in over the road, all the nice, boring polite people on my side of the street simply don't know who to hate any more. They don't want their neighbours' houses demolished in order to build an access road to a new cargo terminal, but even more than that, they don't want weirdos waking them up at night with bongo drums, and they certainly don't want their daughters going to visit anti-capitalist communes and deciding that they like it there."
This is a fantastic book that is definitely worth reading. It tackles the very important issue of climate change in an engaging and relatable way for children and teenagers. One of the things that I love about reading is that it can open your eyes to another way of life. This book also highlighted the fact that life isn't perfect and that there can be rocky relationships and family breakups. Luke's home life changes dramatically when half of his family move into the house across the road.
One of the characters living in the commune is Sky. She is a home-schooled 12-year-old who befriends Luke. Initially, she invites herself over to his house and he can hardly say no after he has had a tour of the commune. She delights in the peace and quiet of Luke's family home and the nurturing that she receives from his mum, who lets her use the bath and freshens up her clothes - even gives her a haircut! Sky would like nothing more than to attend a regular school and learn to fit in with her peer group.
Then the bulldozers roll closer and the protest really heats up… I loved this story. It is really engaging. The main character, Luke, feels authentic. He is an ordinary teenager who ended up not just talking about a problem, but doing something about it.
352 pages / Reviewed by Clair Bossons, school librarian
Suggested Reading Age 11+
Other titles