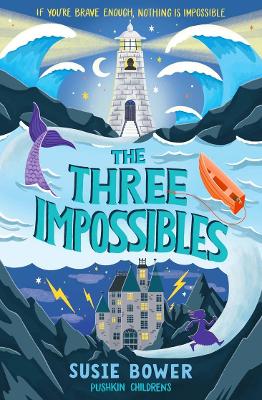 By Author / Illustrator
Susie Bower (Author)
Genre
Adventure
Age range(s)
7+
Publisher
Pushkin Children's Books
ISBN
9781782692928
Format
Paperback / softback
Published
03-06-2021
Synopsis
Mim grew up surrounded by secrets. On the day she was born, her mother died and a mysterious curse was cast on her family. Ever since, she's been isolated in a walled castle, forbidden from venturing to the Outside. But Mim has never been able to stop asking questions - and when her father enlists the suspicious Madame Marionette to train her in the art of being a princess, her curiosity only gets more intense. Determined to understand, Mim sets out on an epic adventure in which she will break all the rules, encounter strange creatures and use all her cunning to solve impossible problems. But will it be enough to bring happiness back to the lonely castle on the rock?
Reviews
Jo
The Three Impossibles is exactly that: impossible to put down, impossible not to love and impossible to forget. In this fantasy adventure we meet Mim, a feisty protagonist with an Enquiring Mind. Mim always seeks answers and has determination and perseverance in bucket loads. Mim is a lonely character; her father, the King, has little time for her and she seems to be source of disappointment to him. Mim is also a painful reminder of his lost wife, Mim's mother, who died on the day that Mim was born; the day that a curse was cast over the kingdom. Consumed by his grief, the King has constructed a wall around his domain so that no Outsiders may get in. This, he believes, is the best thing to do in order to keep Mim safe from the dangers of the Mers and Wings who rule the sea and sky beyond the kingdom.
The confines of her life have, however, made Mim determined to explore the mysteries of the world beyond the kingdom of Galena. It is this determination that threatens to place Mim in mortal danger. In his drive to make a 'proper princess' out of Mim, the King employs Madame Marionette as a governess. Madame Marionette is strange; as she arrives in the kingdom, an air of intrigue and suspicion surrounds her. She brings with her an assortment of animals, some caged, some alive and some dead. She is bossy, cold-hearted and manipulative. All the right ingredients for a villain! 
Mim's curiosity is the driving force of the story. She demonstrates fortitude, grit and ingenuity and is an inspiring female role model. When Mim escapes to the Outside, she begins a thrilling adventure, meeting more lovable characters who try desperately to fulfil the demands of the mean and wicked Madame Marionette. Mac lives in a lighthouse and is an inventor. Immediately, Mim is drawn to him and the pair work together to achieve the Three Impossibles, racing against the clock and against the odds to complete Madame's task. The story finishes with a fabulous surprise and all is well in the kingdom. Mim proves that an Enquiring Mind is a powerful thing and her unwavering determination saves the day.
This is a fantastic read. Mim is an enduring character who will act as a positive role model. The themes of friendship, loyalty, bravery and perseverance will mean that The Three Impossibles will make an indelible mark in the imaginations of many young readers. Grab your copy while you can!
320 pages / Reviewed by Jo Clarke, teacher
Suggested Reading Age 7+
Other titles