The Unadoptables: Five fantastic children on the adventure of a lifetime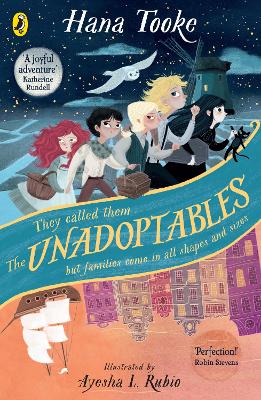 By Author / Illustrator
Hana Tooke, Ayesha L. Rubio
Genre
Friends and family
Age range(s)
9+
Publisher
Penguin Random House Children's UK
ISBN
9780241417447
Format
Paperback / softback
Published
18-02-2021
Synopsis
"A compelling, gorgeously-written story about the power of friendship and the true meaning of family . . . perfection!" Robin Stevens, author of Murder Most Unladylike. "A high-speed, witty, absurd and joyful adventure." Katherine Rundell, author of Rooftoppersand The Good Thieves.

The remarkable. The extraordinary. The brave.

Way back in the autumn of 1880, five babies are discovered at the Little Tulip Orphanage in most unusual circumstances. Those babies are Lotta, Egbert, Fenna, Sem and Milou.  The vile matron calls the children 'the unadoptables' but this talented gang of best friends know that their individuality is what makes them so special - and so determined to stay together.  When a sinister gentleman tries to get them in his clutches, the children make a daring escape across the frozen canals of Amsterdam, embarking on an adventure packed with pirate ships and puppets. But is their real home - and their real family - already closer than they realize?
Reviews
Nicola
The Unadoptables is a stunningly spooky and sinister story of loyalty, determination and family packed with adventure and adversity.
Amsterdam, 1886. The Little Tulip Orphanage has strict rules on how babies should be delivered, but that autumn, five children arrive in ways that break every rule. Their indiviuality and appearances make them unadoptable. Hope that parents will return or they may be chosen slowly dwindles as the years pass, until a sinister gentleman arrives... And so, in a bid to stay together, the 'unadoptables' begin a daring escape and a search for a family with the smallest of clues to set them on their way.
The children's unique voices shine throughout, with each using their talents to keep the group going when life deals them yet more set backs. Imagination and ingenuity, teamwork and tenacity are in plentiful supply as they strive to escape the system they were abandoned in and find a new life, together.
Gassbeck is as penny pinching and mean a Matron to the orphans of Amsterdam in her charge as the Master of the orphanage in Oliver. But, she pales in comparison to the sheer cruelty of Rotman who will stop at nothing to ensure his ship sails with the orphans he's been promised.
Whether in the city, or the polder, on rooftops or frozen rivers, Hana transports the reader back in time to each setting with ease, immersing us into the children's world. Ayesha's stunning illustrations at the beginning of each chapter bring both the characters and settings to life.
With an ending that was nothing short of perfection, The Unadoptables is as mesmerizing as it is menacing, a truly marvellous read.
Great for fans of The Peculiars by Keiran Larwood, The Clockwork Sparrow by Katherine Woodfine and Strange Star by Emma Carroll.
400 pages / Reviewed by Nicola Cleveland, school librarian
Suggested Reading Age 9+
Other titles