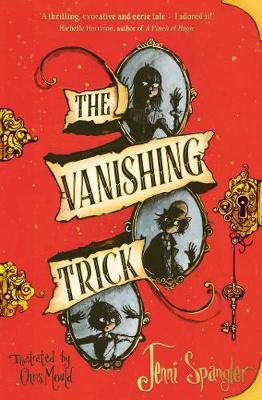 By Author / Illustrator
Jenni Spangler, Chris Mould
Genre
Historical Fiction
Age range(s)
9+
Publisher
Simon & Schuster Ltd
ISBN
9781471190377
Format
Paperback / softback
Published
30-04-2020
Synopsis
Step into a world of secrets, folklore and illusions, where nothing is as it seems and magic is at play...

Madame Augustina Pinchbeck, travels the country conjuring the spirits of dearly departed loved ones... for a price. Whilst her ability to contact ghosts is a game of smoke and mirrors, there is real magic behind her tricks too - if you know where to look.  Through a magical trade, she persuades children to part with precious objects, promising to use her powers to help them. But Pinchbeck is a deceiver, instead turning their items into enchanted Cabinets that bind the children to her and into which she can vanish and summon them at will.  When Pinchbeck captures orphan Leander, events are set into motion that see him and his new friends Charlotte and Felix, in a race against time to break Pinchbeck's spell, before one of them vanishes forever...

A historical adventure with a magical twist from an outstanding debut talent. Perfect for fans of Michelle Harrison, Sophie Anderson and Emma Carroll.
Reviews
Jennifer
The Vanishing Trick is a truly gripping , thrilling and atmospheric story of dark ,gothic Victorian magic. The sinister, villainous Madame Pinchbeck is a disturbing and dangerous creation who lures children with a mask of kindness and then traps them within Cabinets of their own possessions. She controls their very soul and appearance in the world. When she adds a third kidnapped child to her hidden haul , the three children must join together to fight for their existence beyond her heinous powers.

Utterly compelling to read, this story takes the reader on a riveting and menacing journey. As the children feel trapped within their wickedly enchanted Cabinets, the reader is trapped alongside them in Pinchbeck's dim and foreboding carriage as she travels the land with her showy but slyly performed seances.

The Vanishing Trick was deliciously dark and nerve-jangingly powerful throughout. As Pinchbeck grows more and more twisted and controlling, the children's bond with each other becomes more intense and fierce and the tension and drama is heightened scene after scene .

Scary, eerie and exciting - a superbly stunning debut.

304 pages / Reviewed by Jenny Caddick, teacher
Suggested Reading Age 9+
Other titles