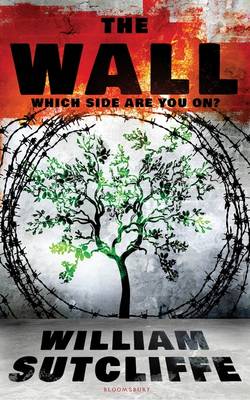 By Author / Illustrator
William Sutcliffe
Genre
Representation & Inclusion
Age range(s)
11+
Publisher
Bloomsbury Publishing PLC
ISBN
9781408837450
Format
Hardback
Published
13-04-2014
Synopsis
Joshua is thirteen. He lives with his mother and stepfather in Amarias, an isolated town on top of a hill, where all the houses are brand new. At the edge of Amarias is a high wall, guarded by soldiers, which can only be crossed through a heavily fortified checkpoint. Joshua has been taught that beyond the concrete is a brutal and unforgiving enemy, and that The Wall is the only thing keeping him and his people safe.
One day, looking for a lost football, Joshua stumbles across a tunnel which leads towards this forbidden territory. He knows he won't get another opportunity to see what is beyond The Wall until he's old enough for military service, and the chance to crawl through and solve the mystery is too tempting to resist. He's heard plenty of stories about the other side, but nothing has prepared him for what he finds...
The Wall is a novel about a boy who undertakes a short journey to another world, to a place where everything he knows about loyalty, identity and justice is turned upside down. It is also a political fable that powerfully evokes the realities of life on the West Bank, telling the story of a Settler child who finds there are two sides to every story.
Reviews
Lisa

- Age 14
I have thoroughly enjoyed reading this book, as although being emotionally charged and poignant at times, it has also many cryptic and hidden meanings and symbolism, which add depth to the characters and story. Through Sutcliffe's intense description, I have come to understand what life is like for children, adults and parents on both halves of a social divide, and I feel lucky that I was able to learn so much from this story, as it has helped me to empathise with the hundreds of thousands of people who live in this way across the world.
Suggested Reading Age 14+
Chelsea

- Age 14
The Wall is a seat-gripping book full of anticipation and adventure, but it also captures many moral issues. It is based on the Israeli/Palestinian conflict, and the political aspect may make this book sound incredibly boring, but only makes the book more interesting, as not only is Joshua on a thrilling adventure, but one that will teach him about what is right and wrong. Here is a little extract: "Now I have a choice. I can go back up, collect my football, and head home; or I can go through. I know what I ought to do. I know what every other boy in Amarias would do. But as I see it, those are the two best reasons there could possibly be for doing the opposite." My favourite character is Joshua, which may seem like an obvious choice due to his character being the main protagonist, but he is my favourite character because of his attitude to the world around him. He wants to see what goes on behind the supposed normality the Amarias inhabitants are meant to live by. He strives to be different and ask questions, as indicated in the quote above. Most importantly, he yearns for the truth in a secretive society. This is why I admire his character. As this book is in the Young Adult and Adult section, I would recommend it for 12+ ages as strong moral issues are brought up throughout. I really enjoyed this book and thought it was an exciting, pulse-raising book with a strong message that is important for many to know. It has been compared to The Boy in the Striped Pyjamas and The Book Thief, both brilliant books I would also recommend. I would give this book five stars as it was very enjoyable and and taught me a very valuable lesson.
Suggested Reading Age 11+
Other titles