The Weight of a Thousand Feathers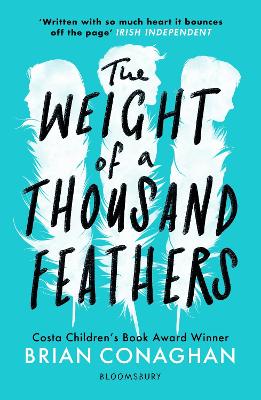 By Author / Illustrator
Brian Conaghan
Genre
Friends and family
Age range(s)
11+
Publisher
Bloomsbury Publishing PLC
ISBN
9781408871546
Format
Paperback / softback
Published
13-06-2019
Synopsis
Angry, stirring and tender, this is a bold, questioning exploration of the lengths to which we'll go for the people we love, from the Costa Children's Book Award winning author of When Mr Dog Bites and The Bombs That Brought Us Together. 
Bobby Seed has questions. What's another word for 'thesaurus'? How can I tell Bel I want her as my girl friend, not my girlfriend? How much pain is Mum in today? Has she taken her pills? And sometimes, secretly, Why us?  Bobby's little brother Danny has questions too. Will Bobby let him have Rice Krispies for dinner? And can he stay up late on the computer? And why won't Mum's stupid illness just GO AWAY?  But it's Mum's question for Bobby that could turn everything on its head. It's the Big One. The Unthinkable One. If Bobby agrees, he won't just be soothing her pain. He'll be helping to end it.  Would he? Could he?  Perfect for readers of Patrick Ness and Malorie Blackman.
Winner of the Irish Book Awards Teen & Young Adult Book of the Year 2018; Longlisted for the Carnegie Medal 2019.
Reviews
Lucy
How far would you go for someone you love? What would you do if they asked? When Bobby Seed's mum asks him the Impossible Question, how will he answer?
From the beautiful front cover to the very last word, this bold, irreverent and tender novel explores the struggles of Bobby Seed, young carer at the age of 17 to his mum who is terminally ill with MS. Bobby has an understandably exhausting life, with school, exams and looking after his younger brother, Danny. He begins to attend a support group and meets other young carers in similar situations. The cheesy activities that they have to do will leave you cringing with sympathy! He also meets Lou, a loose cannon with his own story to tell.
Bobby's mum is a wonderfully warm mother figure, even in her state of confinement within her own bed and body. She's caring, sarcastic, loves eighties films and nineties music. Her personality makes her fight all the more poignant and the question she asks Bobby all the more upsetting.
The relationship between Bobby, Danny and the ever-present best friend Bel are utterly believable with no word wasted. There is humour but not to the detriment of the novel.
A sensitive, moving, honest and heart-breaking story that stays with you long after you finish it. This book could be used in many ways in schools either in a book club, as a class read or as part of a PHSE discussion. Get this book into as many hands as you can; it is a book that can be read be everyone.
368 pages / Ages 12+ / Reviewed by Lucy Georgeson, LRC Manager
Suggested Reading Age 11+
Other titles