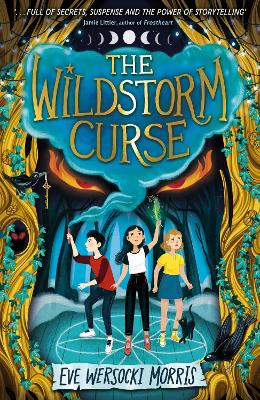 By Author / Illustrator
Eve Wersocki Morris
Genre
Adventure
Age range(s)
9+
Publisher
Hachette Children's Group
ISBN
9781444963342
Format
Paperback / softback
Published
19-01-2023
Synopsis
A fabled witch. A powerful curse. A monster out for revenge.  13-year-old Kallie Tamm can't wait to spend a week of her summer holidays at the Wildstorm Theatre Camp: she's determined not to let her dyslexia hold her back from achieving her dream of becoming a playwright. The finale of the whole week is a performance in the local village theatre. But as soon as she arrives, Kallie discovers that the cast will be performing a play written by a 17th Century witch, Ellsabet Graveheart, and strange, scary things start happening. Unbeknown to Kallie, a dark shadow is stirring in the woodland near Wildstorm: an ancient and dangerous creature has awoken from a centuries old slumber, and they're out for revenge, putting Kallie and all of her new friends in grave danger.   
The Wildstorm Curse is a thrillingly suspenseful story about unlikely heroes and the power of storytelling, from author of The Bird Singers, Eve Wersocki Morris.   'A riveting tale full of secrets, suspense and the power of storytelling. Just beware reading it if camping out in a dark, spooky wood...' - Jamie Littler, bestselling author of Frostheart.  'Fabulously gripping. I couldn't put it down.' - Abi Elphinstone, bestselling author of Sky Song.  'The Wildstorm Curse is a brilliant, spine-tingling mystery that kept me on the edge of my seat. I would wholeheartedly recommend it!' - Ewa Jozefkowicz, author of The Dragon in the Bookshop.  'Distinctive, dark and mysterious - a thoroughly intriguing adventure.' - Katherine Woodfine, author of The Sinclair's Mysteries
Reviews
Jacqueline
Kallie is 13 years old. She is also dyslexic, but this does not prevent her from winning a play writing competition and getting a place at a summer theatre camp in the village of Merricombe. Once there, strange things start to happen; the villagers do not want the old theatre used and some people start behaving very oddly. It seems as if the old curse has begun again and the witch Ellsabet, from the 1600s, has returned.
As soon as I saw The Wildstorm Curse recommended for fans of Aveline Jones (Phil Hickes), I knew it would be spooky. I was not prepared for the level of tension, however, and the build up to the curse being unleashed made the book both unputdownable and wanting to stop and go and do something else to relieve the tension!
Whilst it is full of magic, this novel also covers the treatment of women in 1600s and how they were often accused of witchcraft. In this story, the village had created a whole tourist industry around Ellsabet the Witch and her life and death was now big money. The characters are key to this story, they are all interesting in their own right, and even the minor parts are given a voice. Kallie is clearly written from the heart, a dyslexic who loves to write, as Eve Wersocki Morris is herself. The cover by Poala Escobar, is very striking and captures the mood of the story. There is also a map illustration by Kristyna Litten and who doesn't like a map in the front of their book?
My daughter already has her eye on this book and I think it will be very popular with children because everyone likes to be a little bit scared and then have a satisfying ending when it all turns out all right in the end..... or does it?
320 pages / Reviewed by Jacqueline Harris, teacher
Suggested Reading Age 9+
Other titles