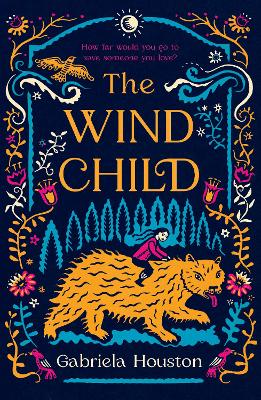 By Author / Illustrator
Gabriela Houston
Genre
Magical Realism
Age range(s)
9+
Publisher
UCLan Publishing
ISBN
9781912979783
Format
Paperback / softback
Published
03-02-2022
Synopsis
Packed with a colourful Slavic cast of tempestuous gods and frightening monsters, The Wind Child is above all a story about friendship, and how far you would go and what you would sacrifice to avoid saying goodbye to someone you love.
No human has ever returned from Navia, the Slavic afterlife. But 12-year-old Mara is not entirely human. She is the granddaughter of Stribog, the god of winter winds, and she's determined to bring her beloved father back from the dead. Though powerless, Mara and her best friend Torniv, the bear-shifter, set out on an epic journey to defy the gods and rescue her father. On their epic journey they will bargain with forest lords, free goddesses from enchantments, sail the stormy seas in a ship made of gold and dodge the cooking pot of the villainous Baba Latingorka. Little do the intrepid duo know of the terrible forces they have set in motion, for the world is full of darkness and Mara will have to rely on her wits to survive.
Reviews
Jo
Mara, granddaughter of the winter god, lives a dual life; half human and half god. When her mortal father falls ill, the family return to his home on Earth to be loved and looked after by his family. Feared and not wholly accepted by her human cousins, Mara feels like an outsider. Devastated and unable to accept her father's death, Mara vows to prevent his spirit from entering Navia, the final destination for his soul. She believes that, if she were able to prevent his crossing to Navia, she could keep him with her forever.
Mara's journey is one of peril and great risk; no human has ever return from Navia but Mara is driven by her grief and endless love. Accompanied by her only true friend, the hugely likeable Torniv, Mara sets off on a Herculean adventure where her physical and mental strengths are put to the test.
Her quest takes Mara to stormy seas, deep forests and vast fields. There is a strong sense of place throughout the story and this is balanced beautifully with its atmosphere of other worldliness. The strength of friendship grants Torniv the ability to shape shift into a bear and together, he and Mara use their wits and courage to trick and outdo the mythical, magical beasts who regularly try to challenge them. Mara's quick-thinking guile makes her a protagonist with a kick. She is smart, loyal and brave. She has hope and determination and it is this that lights her path even in the darkest paths of her journey.
Part folklore and part mythical, The Wind Child is hugely enjoyable. The reader will stand beside Mara as she tirelessly travels on and will feel her jubilation as she outwits her foes and will ache as her heart breaks. This is a story to get fully stuck into; like Mara and Torniv, it has a heart which is true, a wit that is quick and a strength that is everlasting. I await a sequel.
230 pages / Reviewed by Jo Clarke, teacher
Suggested Reading Age 9+
Clair
Mara is the granddaughter of Stribog the God of Winter Winds, Music and Silver. She has been brought up living among gods and wind spirits with her human father Yaris who she loves dearly. Mara's mother, although a strikingly beautiful wind spirit, seems a little more detached emotionally. I got a clear sense that Mara was much fonder of her ailing human father, who she felt more alike, seemingly having inherited no special powers of her own. When it becomes clear that Yaris has only a few more days to live, they return to his family home and Mara gets to meet her other human relatives for the first time.  She forms a close friendship with Torniv, who later joins her on her journey - as a bear shapeshifter, but there are family tensions with her cousins.
The Wind Child was a wonderful read and will appeal to those that enjoy fantasy fiction and adventure stories. The story follows the main character, Mara, on her quest to bring back her father's soul before it reaches its final resting place in Navia (the afterlife). It is a book inspired by Slavic folklore and the author, Gabriella Houston, provides a glossary of the various creatures and gods in the front of the book to refer to. I found this glossary really useful as there are a lot of characters that to meet along the way.
When Yaris passes away, Mara and Torniv set out on an epic journey to defy the gods and bring her beloved father back from the dead. The Wind Child doesn't shy away from exploring the grief that flows from losing a parent. Mara is a strong, resilient and determined character who is not intimidated by forest lords, stormy seas or any of the villainous demons that she meets along the way. They face many kinds of magic and fantasy creatures, some of whom try to trick her; others offer assistance. It is clear that things aren't always as they seem and Mara and Torniv must rely on their wits to survive.
I really enjoyed this book, it felt very original. I think it would appeal to students that have enjoyed reading The House with Chicken Legs. There was a lot of action and adventure held within the pages of The Wind Child but it also had a more serious tone and didn't shy away from sensitively describing a child's experience of losing a parent. The cover illustration is very striking and will certainly pop out on display. The Wind Child is a wonderful book.
230 pages / Reviewed by Clair Bossons, school librarian
Suggested Reading Age 11+
Other titles