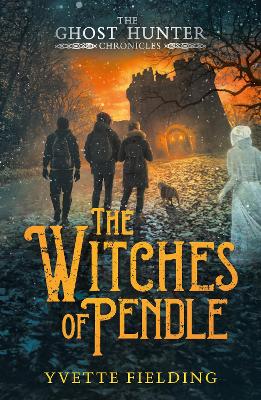 By Author / Illustrator
Yvette Fielding
Genre
Supernatural
Age range(s)
11+
Publisher
Andersen Press Ltd
ISBN
9781839133183
Format
Paperback / softback
Expected
28-09-2023
Synopsis
When a new family moves into a house in Pendle, they discover a witch's bottle filled with curses. Soon the spirits of those accused of witchcraft in the infamous Pendle Witch Trials of 1612 are released, wreaking havoc in the area.
Eve, Clovis and Tom are enlisted to investigate in their latest and most challenging mission yet. Together with their mentor, Professor Rufus, they must go up against the ghosts of the Pendle witches. But the ghosts are hellbent on possessing the descendants of those who were responsible for their deadly trials. Can the ghost-hunting trio put a stop to the possessions before it's too late?
Reviews
Lorraine
A team of ghost hunters investigate mysterious events in the town of Pendle. Several residents have been affected and do not seem themselves, but are they connected in some way? Before long, the team uncover shocking historical events and set out to lay the ghosts of the past to rest.
The Witches of Pendle is the third book in the Ghost Hunter Chronicle Series written by Yvette Fielding, of Blue Peter and Most Haunted fame. I think reading the first two books would help with continuity of characters and immersing in the story sooner, but overall the book stands up well on its own as a mystery and thriller. The narrative is inspired by true historical witch trials and hangings, supplemented by the author's own experiences as a ghost investigator, making for a credible and at times frightening story. The three main teenage characters are all very likeable, with quirks of their own that make them suitable for the SPI, the Society of Paranormal Investigations.
The plot has several twists and turns, with other historical elements being brought in, such as the Safe Haven building and its occupants, still living through the second world war. The author has coupled this with lots of modern-day technology and gadgets that will appeal to teen readers and makes the story relevant to today's society.  Apart from the young team, there are several other interesting characters that I'm sure across the whole series will be entertaining and perhaps develop further.
The book is simply written but this almost masks the creepiness and frightening content, which at times jumps out at the reader.  It is easy to imagine oneself facing the events, and the writing is descriptive enough to picture scenes, without being laborious. Chapters are kept fairly short which is always appealing to readers, and with a fast pace, I think this book will appeal to all students who like to be scared.
273 pages / Reviewed by Lorraine Ansell, school librarian
Suggested Reading Age 11+
Other titles