The Wolf-Girl, the Greeks and the Gods: a Tale of the Persian Wars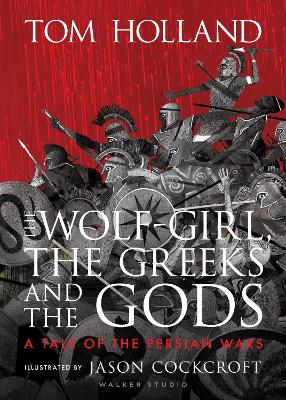 By Author / Illustrator
Tom Holland, Jason Cockcroft
Genre
Myths & Legends
Age range(s)
11+
Publisher
Walker Books Ltd
ISBN
9781406394740
Format
Hardback
Published
04-05-2023
Synopsis
Myth meets history in a blockbuster retelling of the Persian Wars from multi-award-winning author of Rubicon and Persian Fire Tom Holland, lavishly illustrated by Jason Cockcroft.

"The Persians are coming..." Hearing these words, Gorgo of Sparta is plunged into a dangerous world of vengeful gods and invincible heroes. For a mighty empire threatens Athens, Sparta and all who stand in its path... Calling on the ancient power to transform into a wolf and the blood of Zeus that runs through her veins, Gorgo must lead her nation in one of history's greatest wars.
Multi-award-winning author Tom Holland and acclaimed illustrator Jason Cockcroft boldly weave myth and history in this dramatic tale of Greeks and Gods.  Gripping and powerful, this extraordinary illustrated novel will be treasured by readers young and old. Ideal for fans of Percy Jackson, Neil Gaiman and Kevin Crossley-Holland, and the mythical retellings of Madeline Miller, Pat Barker and Stephen Fry, this is a book to be read again and again.

"A beautiful, immersive work of narrative history to treasure forever." Waterstones.  "A glorious mixture - of history, fiction and thrilling legend, with pictures to swim the Hellespont for." Sebastian Faulks.  "The Wolf-Girl, the Greeks and the Gods is a wonder, as beautiful to look at as it is entrancing to read. Jason Cockcroft's illustrations are jaw-dropping, and Tom Holland's prose took me back to my own childhood introductions to these extraordinary mythological worlds in Roger Lancelyn Green's Tales of the Greek Heroes and Leon Garfield's and Charles Keeping's The God Beneath the Sea." Frank Cottrell-Boyce.  "Tom Holland's masterly interweaving of myth, imagination and deep classical learning makes this an extraordinary treat ... Jason's illustrations are also magnificent, packed with talent and sensitivity ... It reminded me of my own favourite childhood books of Greek myth and The Iliad." Amanda Craig.
Reviews
Sue
The Wolf-Girl, the Greeks and the Gods: a Tale of the Persian Wars is an absolute stunner! Told through the eyes of Spartan princess, Gorgo, it is an epic re-telling of the Persian Wars and I loved it so much I almost don't know where to start.
The writing is completely compelling, offering a rich blend of mythology, history and narrative. Gorgo, one of the few female figures named by the historian, Herodotus, was a real Spartan princess and makes a spirited, engaging guide through the events. The telling is well paced, with each of the two parts - A Spartan Childhood and The Great War - broken into achievable chapters.
It is an intense story, full of the blood of battles and the dark deeds of gods and mortals - unputdownable (is that a word?!) and absorbing. And then there is the artwork! From the ships on the endpapers, white against a blood red background, to the gallery of gods, Greeks and Persians, from the maps to the double page spreads, the story is vividly brought to life by the wealth of fabulous illustrations. The artwork is as magical and evocative as the tale it illuminates.
This is a pricy book, yet for the right reader, it is worth every penny. I loved it!
208 pages / Reviewed by Sue Wilsher, teacher
Suggested Reading Age 11+
Other titles