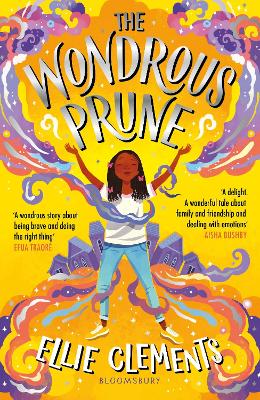 By Author / Illustrator
Ellie Clements
Genre
Magical Realism
Age range(s)
9+
Publisher
Bloomsbury Publishing PLC
ISBN
9781526638328
Format
Paperback / softback
Published
12-05-2022
Synopsis
Magic comes from within...  Uprooted by her single mum along with her troublesome older brother, 11-year-old Prune Robinson is trying to settle in a new town. She figures she can't burden her hard-working mother with the fact she's being bullied. Or the fact that her drawings have started coming to life.  But with her brother soon in danger, Prune comes to realise that she can't hide her power forever; in fact, it might just be the one thing that brings her family back together and saves them all.
Planned as the start of a series about remarkable children from the same neighbourhood, The Wondrous Prune is poignant and surprising with wonderful wish fulfilment and accessible storytelling.
'A warm and charming journey of self-discovery; I particularly liked the irresistible voice of heroine Prune' - Fiona Noble, Bookseller
Find out more from author Ellie Clements
Reviews
Louisa
Prune Robinson is struggling with lots of conflicting emotions when she moves to a new town with her mum and big brother Jesse. Contending with bullying at a new school makes her miserable. Fear that her brother is getting into trouble makes her angry. Missing her old school makes her sad. Then there's the surprise as she starts seeing clouds of colours and, soon, astonishment, as she realises she can bring her drawings to life. How can she control her superpower and use it for good? Can it provide a way to defeat the bullies and prevent her brother from getting any further into dangerous friendships?
This is a great buy if you are looking for books with more diverse characters or if you need to build up a collection of stories with real-life, three dimensional characters. While the premise of the novel is fanciful - that an ordinary year six child can suddenly create candy floss for their friends and pizzas for her brother - everything else is rooted in a familiar everyday world of school and family life. There's a subtly realistic backdrop of the challenges of single parent families and a keen awareness of the pressures of growing up.
Prune is a wonderfully relatable heroine: by no means perfect, but loving, resourceful and resilient. Her engaging voice holds the narrative together so that even the fantastically bizarre sounds credible. As a reader, I challenge you not to be rooting for her!
I think the Year 6 children at my school will love this one; it's the first of a new series that's set to sparkle.
288 pages / Reviewed by Louisa Farrow, teacher
Suggested Reading Age 9+
Kelly
Have you ever dreamt about having a superpower? Prune is an ordinary girl, living an ordinary life, or so she thinks until one day, everything changes. New town. New school and new life awaits. Is this the fresh start that mama has been hoping for? Prune's brother, Jessie, is navigating the trials and tribulations of being a teen and has found himself mixed up with the wrong crowd.
The story reveals the complex nature of when people evolve and change depending on the influences around them. There are two versions of Jessie: the kind, caring older brother and the mask that descends when Bryce, a controlling bully, is around. Prune finds her world turned upside down when she is uprooted by her single mum. She struggles to settle into her new school, but doesn't wish to burden her mama with the fact that she is being bullied. Things come to a head when Prune realises that she is special. She has a superpower: she can bring her drawings to life!
The Wondrous Prune is the perfect addition for the diversity and wellbeing section of any class bookshelf or library. A relatable story for children to find themselves represented, that delves into reality for many: dealing with bullies, being a minority, starting afresh or getting in with the wrong crowd.
288 pages / Reviewed by Kelly Buxton, teacher
Suggested Reading Age 9+
Other titles