The World of Norm: Must Be Washed Separately: Book 7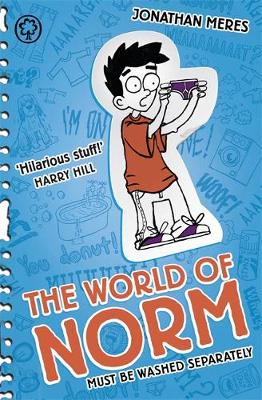 By Author / Illustrator
Jonathan Meres
Genre
Adventure
Age range(s)
9+
Publisher
Hachette Children's Group
ISBN
9781408329511
Format
Paperback / softback
Published
02-10-2014
Synopsis
The seventh hilarious title in the award-winning, laugh-out-loud series, The World of Norm. Perfect for fans of Tom Gates and Diary of a Wimpy Kid.

Norm knew it was going to be one of those days when he was woken by the sound of an elephant breaking wind in the next room...
Not the best start to a day, but it's about to get a whole lot worse. As if a trip to see his perfect cousins isn't bad enough, they've only gone and got the brand new Call Of Mortal Battle! Not that Norm could play anyway what with being banned off Xbox due to a curious incident of a stinky dog at bath time.
Business as usual? ABSO-FLIPPING-LUTELY!!!
With brilliantly funny illustrations throughout from Donough O'Malley.
Praise for Jonathan Meres:
'Hilarious stuff from one of my comic heroes!' - Harry Hill
'Jonathan Meres is flipping funny!' - Eddie Izzard
Reviews
Linda
I have never read any of the books from this series before even though they are in my Library. I love the way they are presented. The pages are not text heavy, have attractive funny illustrations and have key words presented in bold, which all go towards helping readers visualise what is going on in Norms world. This type of layout will attract younger readers and older reluctant readers alike.
I especially like the incident in the bathroom in Chapter 12 on pages 174 to 179, when Norm is in the bathroom with John (he is the family dog!). John proceeds to take the toilet brush and play with it in the bath, it ends up in the toilet ( the brush not John!) and ends back up in the bath which Norm thinks is quite disgusting. This incident could also be the link to the title, I'm not sure where else the title comes from.
Thank you for brightening the dark evening hours with this very funny, laugh-out-loud book. I would recommend it to readers of Pig, Diary of a Wimpy Kid and fans of David Walliams.
288 pages / Ages 9+ / Reviewed by Linda Brown, librarian.
Suggested Reading Age 9+
Other titles