The Worlds We Leave Behind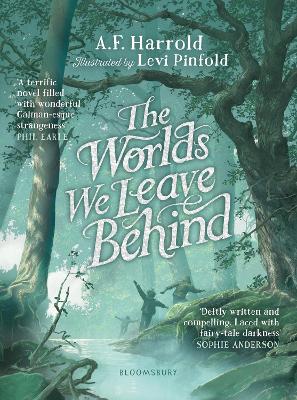 By Author / Illustrator
A.F. Harrold, illus Levi Pinfold
Genre
Friends and family
Age range(s)
11+
Publisher
Bloomsbury Publishing PLC
ISBN
9781526623881
Format
Hardback
Published
04-08-2022
Synopsis
An extraordinary story about friendship and betrayal. Of revenge and retribution but also redemption. Perfect for 11+ readers who enjoy Stranger Things.
Hex never meant for the girl to follow him and his friend Tommo into the woods. He never meant for her to fall off the rope swing and break her arm. When the finger of blame is pointed at him, Hex runs deep into the woods and his fierce sense of injustice leads him to a strange clearing in the woods - a clearing that has never been there before - where an old lady in a cottage offers him a deal. She'll rid the world of those who wronged him and Hex can carry on his life with them all forgotten and as if nothing ever happened. But what Hex doesn't know is someone else has been offered the same deal. When Hex's best friend Tommo wakes up the next day, he is in a completely different world but he only has murmurs of memories of the world before. Moments of deja vu that feel like Tommo's lived this day before. Can Tommo put the world right again? Back to how it was? Or can he find a way to make a new world that could be better for them all?
Find out more from author AF Harrold
Reviews
Lorraine
Hector is the class clown and sometimes, just sometimes, the class bully. One day he causes an accident and suddenly his one true friend and life are no longer the same. Full of anger and a sense of injustice, Hector is offered an unusual deal by a strange old lady and her dog. Offering to make everything better by simply removing the person who has done him wrong, Hector struggles to do what's right. Before long, life has changed and the world is not as it was. Will it ever be the same again?
The World We Leave Behind is an astounding book, beautifully written and fairy-tale like in the atmosphere it creates. The scenes in the forest and lyrical language used throughout describe an almost magical realm suspended between home and reality, entered into by freedom and play.  The book explores the importance of character and friendships with related family extensions and the changes they can go through. It subtly extends glimpses of different homes, families and their relationships, covering love, guilt, abuse, isolation and loneliness.
Accompanying the text and adding to the atmosphere are the stunning illustrations by Levi Pinfold. Using dark and light, shadows and mist, the images place the reader not only in the forest with its magic and trees, but also in the underbelly of relationships and fear. Whilst reading the book I revisited many pages or phrases simply to appreciate the words again, and it reminded me of Where A Monster Calls for the impact of prose and images together.
I am a true advocate of illustrated novels and this is a clear, brilliant example of where they work in perfect harmony. Students will love this book; it is as if the story reads itself while the reader is watching from behind a nearby tree. Highly recommended.
272 pages / Reviewed by Lorraine Ansell
Suggested Reading Age 11+
Other titles