The Young Cyclist's Companion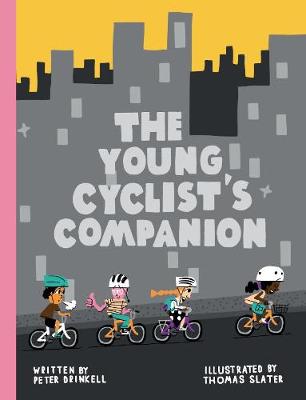 By Author / Illustrator
Peter Drinkell, Thomas Slater
Genre
Non Fiction
Age range(s)
9+
Publisher
Cicada Books Limited
ISBN
9781908714961
Format
Hardback
Published
22-04-2021
Synopsis
Who doesn't remember what it feels like to be a young person on a bike? Cycling offers kids an unrivalled freedom and independence. With global cycling trends on a new, post-pandemic high, ever more young people are experiencing the joys of the beautiful machine.

This book is aimed at young people who are just entering into the world of cycling. It explains all the basics: How to choose a bike (types of bike, getting the right fit), basic maintenance (changing a tyre, cleaning your bike), cycling techniques (pedalling, gearing, cornering, bunny hops) and next level cycling (competitions and training).

Alongisde these informative texts there is a cornucopia of facts and trivia about the unusual habits of famous cyclists, the weirdest, biggest, furthest and longest bikes and journeys, the most useful cycling life-hacks, etc. This multi-layering of information makes this an enjoyable toilet read as well as an extremely useful manual.

Clearly written by author, photographer and cycling enthusiast, Peter Drinkell, it is beautifully brought to life with bright colour photography and charming illustrations by the talented Thomas Slater, making a beautiful package for the beautiful machine!
Reviews
Lizi
This is. great book for budding cyclists; it introduces children to the basics of bikes. The book begins with the history of bicycles and how they developed into the bike we know today. It covers different types of bikes, their parts and how to care for them. There are sections on different types of cycling and even explanations on how to do a few tricks. The book wants to help you get the most enjoyment out of cycling and even explains how your bike and body work together.
It's a great non-fiction book, well supported by photographs and illustrations. It's bright and catchy with a glossary that explains the specific vocabulary too. This would be a great gift for children who have shown interest in cycling.
72 pages / Reviewed by Lizi Backhouse, teacher
Suggested Reading Age 9+
Other titles