Things a Bright Girl Can Do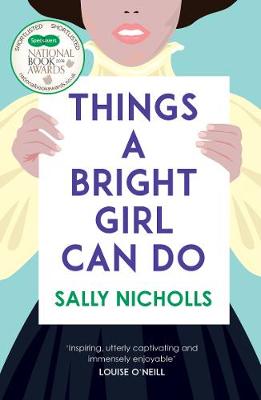 By Author / Illustrator
Sally Nicholls
Genre
Historical Fiction
Age range(s)
14+
Publisher
Andersen Press Ltd
ISBN
9781783446735
Format
Paperback / softback
Published
01-02-2018
Synopsis
Through rallies and marches, in polite drawing rooms and freezing prison cells and the poverty-stricken slums of the East End, three courageous young women join the fight for the vote. Evelyn is 17, and though she is rich and clever, she may never be allowed to follow her older brother to university. Enraged that she is expected to marry her childhood sweetheart rather than be educated, she joins the Suffragettes and vows to pay the ultimate price for women's freedom. May is 15, and already sworn to the cause, though she and her fellow Suffragists refuse violence. When she meets Nell, a girl who's grown up in hardship, she sees a kindred spirit. Together and in love, the two girls start to dream of a world where all kinds of women have their place. But the fight for freedom will challenge Evelyn, May and Nell more than they ever could believe. As war looms, just how much are they willing to sacrifice?
Reviews
Lucy
This wonderfully atmospheric historical novel captures perfectly the fight for women's suffrage through the eyes of three very different and opinionated young women. 17-year-old rich and clever Evelyn is furious that she is expected to marry and have children when she would rather go to university and continue with an education. As a result, she joins the Suffragettes and vows to do whatever it takes for women's freedom. 15-year-old opinionated May, a pacifist Quaker feminist, is a member of the Suffragists and believes that everything can be sorted out though non-violent means. She meets and falls in love with Nell who comes from the poor East End, works in a jam factory and loves the fighting at the suffrage rallies. Once World War I begins, all their lives are thrown into turmoil.

From privileged homes to prison cells to the slums of the East End, this book primarily deals with women's suffrage, however, we also find out so much more. The impact of the men leaving home to fight; the frustration about things that we take for granted; and also issues of transgender.

This book needs to be talked about at book clubs, read alongside history lessons and generally shouted from the rooftops. An utterly compelling, intriguing and sometimes infuriating read (but only because you become so incensed by the injustice of 100 years ago!). You may have a favourite character but you will be rooting for them all!

432pages / Ages 12+ / Reviewed by Lucy Georgeson
Suggested Reading Age 14+
Eileen
Some novels are written to be read and not reviewed and this is most definitely one of them! Essentially a book about suffragettes aimed at young adults, Things a Bright Girl Can Do is so very much more than charting as it follows the stories of three very different girls from very different backgrounds, all dissatisfied with their lot in life and united in their determination to challenge and change the status quo.
Evelyn is privileged and intelligent but unable to take up a University place like her brother, expected instead to conform; choosing marriage to a suitable husband over education. Joining the suffragette movement as a means to self-fulfilment, she finds herself imprisoned and on a hunger strike which threatens her life. May is a Quaker and a pacifist, already committed to the cause through her activist mother. At a violent rally May falls (literally!) for Nell, brought up in hardship and poverty, but outspoken and committed to doing whatever it takes to escape the unfairness around her.
As the girls unite in their determination to fight for the right to vote for what they believe in, the outbreak of the First World War changes everything and forces each to think again about the sacrifices they must make and contemplate compromising their firmly held principles.
Epic in scale and scope, Sally Nicholls expertly catapults the reader through polite society drawing rooms where women are seen and not heard, to the towers of Oxford, from the factory floor to prison cells, from marches and military hospital wards to London slums.  While the great figures of the past Like Pankhurst and Davidson feature, the spotlight is firmly on 'everyone - the folk like us' who actually make history and make a difference. It makes for a refreshingly different read.
This is a book packed so full of themes and issues as relevant then as now that it cannot fail to make the reader think; sacrifice, social class and sexual identity; freedom, first love and coming of age. The ending is realistic, if not the one the reader is rooting for, and cleverly challenges the reader too to reflect on what the equality movement has achieved and how much further there might be to go.
Short chapters and frequent shifts in perspective make this a completely compelling rather than confusing story while Nicholls's meticulous research, vivid descriptions, pitch perfect language and sympathetic characters combine to make this one of the best historical novels you will ever read; a vital addition to every school library and LGBTQ collection, a book which will repay repeated re-reading for upper KS3 and beyond.
It is a gift for Humanities teachers looking to use fiction as a means of bringing history to life in the classroom rather than just rote learning the facts. As a discussion-starter with young adults just beginning to develop their own views on equality, it will spark much heated, much needed debate in a reading group. An empowering novel too, Nicholls is careful to highlight the importance of people power and the ability of young people to make a difference. They will enjoy sharing their views in Andersen's cleverly-conceived promotional 'What's your protest slogan?' campaign.
432pages / Reviewed by Eileen Armstrong, school librarian.
Suggested Reading Age 14+
Other titles