This Is The Way The World Ends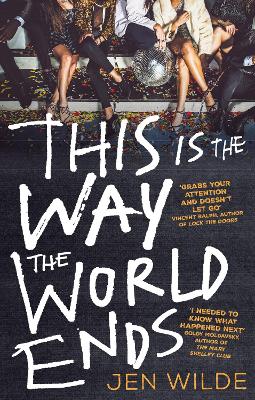 By Author / Illustrator
Jen Wilde
Genre
Suspense & Thrillers
Age range(s)
14+
Publisher
Little, Brown Book Group
ISBN
9780349125367
Format
Paperback / softback
Published
09-05-2023
Synopsis
Fans of One of Us Is Lying and The Hazel Wood are cordially invited to spend one fateful night surviving an elite private school's epic masquerade ball in Jen Wilde's debut thriller, This Is the Way the World Ends.

As an autistic scholarship student at the prestigious Webber Academy in New York City, Waverly is used to masking to fit in - in more ways than one. While her classmates are the children of the one percent, Waverly is getting by on tutoring gigs and the generosity of the school's charming dean. So when her tutoring student and resident 'it girl' asks Waverly to attend the school's annual Masquerade disguised as her, Waverly jumps at the chance - especially once she finds out that Ash, the dean's daughter and her secret ex-girlfriend, will be there.

The Masquerade is everything Waverly dreamed of, complete with extravagant gowns, wealthy parents writing checks, and flowing champagne. Most importantly, there's Ash. All Waverly wants to do is shed her mask and be with her, but the evening takes a sinister turn when Waverly stumbles into a secret meeting between the dean and the school's top donors - and witnesses a brutal murder.

Waverly's fairy-tale has turned into a nightmare, and she, Ash, and her friends must navigate through a dizzying maze of freight elevators and secret passageways if they're going to survive the night.

'A thrilling tale about privilege, power, and the different routes our future may take, depending on who has the controls' Vincent Ralph, New York Times bestselling author of Lock The Doors.  'I needed to know what happened next' Goldy Moldavsky, author of The Mary Shelley Club.  'Dark academia turns sideways in this compelling, suspenseful, romantic thriller' Wendy Heard, author of She's Too Pretty To Burn.  'A dark, twisted Cinderella story . . . You'll finish these pages long before the clock strikes midnight' Julia Lynn Rubin, author of Trouble Girls
Reviews
Clare
Attending prestigious Webber Academy in New York, scholarship student Waverly is used to keeping a low profile and fitting in. Academic but with parents in a different financial sphere from her wealthy peers, she works hard and subsidises herself by tutoring. When this brings her into the hallowed circle of It girl, Caroline, she is given an opportunity to attend the opulent masquerade ball. There's just one catch - she must masquerade as Caroline and fool their classmates. But Waverly's Cinderella moment takes a sinister turn when she uncovers a bizarre and murderous plot by the seemingly benign Dean. Can she convince her fellow students of the danger? And will they be able to stop it?
Once the story moves to the underbelly of the school and the secret machinations of the Dean, the action becomes convoluted and chaotic. After a slow start, there is a whirlwind of activity as the reader enters a maze of secret rooms and passageways. Relationships and romantic entanglements become increasingly complicated and it becomes hard to know who to trust. The resolution, such as it is, surely suggests a sequel as the action is nicely staged for future events.
This is the Way the World Ends is a YA read with plenty to keep the reader interested - part mystery, part sci-fi, part romance - there is a lot packed into this book, but the far-fetched plot and slightly heavy-handed and issue-laden start may be off-putting to some. Those thoughts aside though, and with important points to make about power and privilege, this is sure to find an avid readership.
272 pages / Ages 12+ / Reviewed by Clare Wilkins, school librarian
Suggested Reading Age 11+
Other titles