This Rock, That Rock: Poems between you me and the moon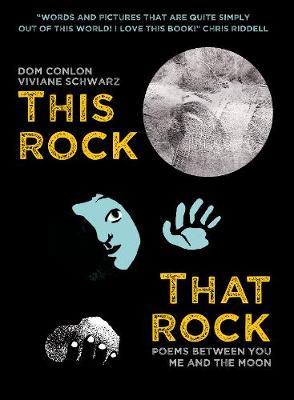 By Author / Illustrator
Dom Conlon
Genre
Poetry
Age range(s)
9+
Publisher
Troika Books
ISBN
9781909991927
Format
Paperback / softback
Published
01-03-2020
Synopsis
To celebrate 50 years since the first moon landing by Apollo 11 in 1969, here is an original collection of 50 poems. In his poems Dom tells us of two important things - the Moon is incredible: it controls our tides, to give us 24-hour days and it keeps our planet stable enough to have seasons. Dom reminds us that poetry too is incredible because it is the most flexible form of expressing ourselves and has been always how we used to tell stories, particularly about our ways of seeing this incredible Moon. The Moon is an inspiring rock of possibilities. Dom uses lots of poetry forms, short poems and long ones, silly ones and serious ones. There are haiku and sonnets, acrostics and shapes. He uses metaphors and kennings and slang. Dom says read the poems and fly to the moon!
Reviews
Alison
Poet Dom Conlon and illustrator Viviane Schwarz have collaborated to bring us 50 poems about the moon: This Rock, That Rock, Poems Between You Me and the Moon.
What makes this book stand out is the design: text and illustration work so well together with each poem being a seamless unit of text and graphics.
Take the simplicity and impact of 'The Way' (p.53), a poem celebrating Eid. With its inky sky background studded with tiny stars, the white words remind us: 'do not begin to celebrate / when the full Moon lights the way / the darkest sky and the new moon / marks the difficult path to take along the way/'.
96 pages / Ages 8+ / Reviewed by Alison Kelly, consultant
Suggested Reading Age 9+
Other titles