Tiger, Tiger, Burning Bright! - An Animal Poem for Every Day of the Year: National Trust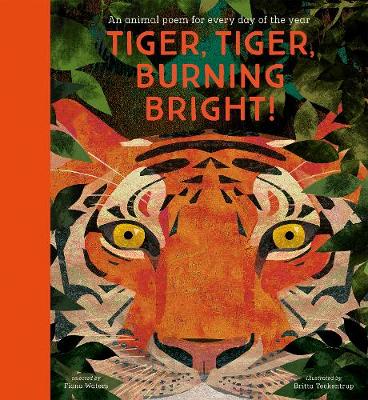 By Author / Illustrator
Britta Teckentrup, Fiona Waters
Genre
Poetry
Age range(s)
7+
Publisher
Nosy Crow Ltd
ISBN
9781788005678
Format
Hardback
Published
03-09-2020
Synopsis
"There is a whole world inside this glorious book; a poem for every day. This is a wonderful introduction to nature and all our fellow creatures. Within these pages we get to know them better and care for them more. There are poems to read again and again and some even to learn by heart. So when you next meet a tiger face to face, just start reciting the great poem 'Tiger, Tiger Burning Bright' and he'll be mesmerised." - Michael Morpurgo, author of War Horse
A glorious and ambitious sequel to I Am the Seed That Grew the Tree - winner of Waterstones Children's Gift of the Year 2018 and Red Magazine's Children's Illustrated Book of the Year 2019, and described by Julia Donaldson as "An absolutely beautiful book."
This lavishly illustrated gift book treasury of 366 animal poems - one for every day of the year - ranges from unforgettable classics to contemporary works from around the world, including poetry in translation. The spectacular range of poems for children includes work by Roger McGough, William Blake, Dick King-Smith, Ted Hughes, Grace Nichols, Lewis Carroll, Christina Rossetti, Emily Dickinson. Britta Teckentrup's breathtaking illustrations bring together all the richness and wonder of the animal kingdom, making this poetry anthology a perfect gift that will be treasured by generations.
With sumptuous finishes including cloth binding, full colour illustrations throughout, textured paper jacket, ribbon marker, and head and tail bands.
The perfect gift for any child or adult to treasure.
Reviews
Alison
Tiger, Tiger, Burning Bright! - An Animal Poem for Every Day of the Year: National Trust is the second compilation of poems by Fiona Waters. The first - I am the Seed that Grew the Tree - was a delight and this follow up doesn't disappoint. It's another beautifully curated and illustrated anthology. The formula is the same: poems span across a double page spread nestling in amongst Britta Teckentrup's arresting illustrations.
January opens with a polar bear and cub making their way across a chilly snowy landscape to the accompaniment of Judith Nicholls' 'Polar Cub', Russell Hannah's quirky 'The Cub' and Jason Fields' succinct lines: 'The polar bear's / fur is / like sugar. / His nose / is like a / black plum.//. Turn the page and the palette changes to a dramatic deep blue backdrop for poems about whales.

My copy of the book arrived as I was in the middle of a Zoom session with a group of 60 trainees. I turned to the poem for September 24th and we were rewarded with Ftoun Abou Kerech's beautiful 'The Doves of Damascus' (p.227) chronicling memories of his country: 'I remember the birds, the doves / of Damascus. I remember / how they scattered. / I remember / trying to catch them.//. Doves in muted colours scatter across the page against a hazy background echoing the haziness of the poet's recollections. It is testimony to Fiona Waters' talent as an anthologist that I could turn to a poem which was new to me with such confidence.

Waters has assembled a fabulous cast of poets old and new with a rich array of poems from diverse cultures. As I said when I reviewed I am the Seed, schools will need to give careful consideration as to where to place the book because there are poems here for younger and older children. Ideally, there would be one in every class so teachers can pick and choose but, failing that, a school copy could be prominently displayed in the library.

Many of the trainees I work with were thrilled to be given I am the Seed as a Christmas gift. I have no doubt that Tiger, Tiger will be on many Christmas lists too.

336 pages / Ages 3-adult / Reviewed by Alison Kelly, consultant
Suggested Reading Age 9+
Bryony
Tiger, Tiger, Burning Bright! is a collection of animal poems. The 365 poems in this book have been selected by Fiona Waters and illustrated by Britta Teckentrup. Published by Nosy Crow in conjunction with the National Trust, this book could be seen as a follow up from 'I am the Seed that Grew the Tree'. A clear, easy to navigate book, this is a stunning addition to any bookshelf.

Waters has selected a range of animal poetry from classics to more contemporary offerings. All types of poems have been included here and care has been taken to offer traditional rhymes and poems from indigenous cultures. Poets featured include Carol Ann Duffy, Robert Frost, Lewis Carroll, Ted Hughes, Roger McGough, Grace Nichols, Jack Prelutsky and many many more.

The months don't have themes as such, although poems about specific animals have been grouped together on beautiful double page spreads. January, for example, starts with three poems about polar bears and March contains a spread contains poetry about bears emerging from hibernation. Christmas Day is marked with Gertrude Hind's poem 'The Donkey' and Halloween is a celebration of Bats by Randall Jarrell. A collection of city dwellers, squirrels, bees and pigeons, feature in mid-May, reminding us that animals are all around us.

Aside from the excellent range and collection of poems, the design of this book is incredible and brings the poems to life. Britta Teckentrup has used a range of techniques to give the animals depth and life. From the watercolour tiger emerging from the forest to a dragonfly resting by a busy pond, the clever design makes links and draws the reader in. The illustrations and design would make a great stimulus for classroom art work.

A stunning collection of animal poetry to enjoy as a daily treat throughout the year.

336 pages / Ages 3-adult / Reviewed by Bryony Davies, teacher
Suggested Reading Age 7+
Other titles