Time to Go to Nursery: Help your child settle into nursery and dispel any worries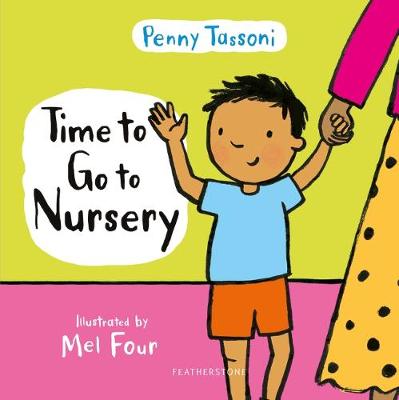 By Author / Illustrator
Penny Tassoni, Mel Four
Genre
Early Skills
Publisher
Bloomsbury Publishing PLC
ISBN
9781472978080
Format
Hardback
Published
10-06-2021
Synopsis
Starting nursery is a big step, so most children will feel nervous at first. This charming book explains what the day will look like, from saying goodbye to parents to meeting other children and learning new things. It shows children what exciting activities might be on offer, like dressing up in fabulous outfits or playing outdoors on tricycles.
With simple-to-read text and delightful full-colour illustrations by Mel Four, Time to Go to Nursery helps children feel confident about going to nursery and reminds them that someone will always be there to help if they're unsure.
From leading Early Years expert Penny Tassoni MBE, Time To... picture books use simple words and colourful illustrations to help young children understand all-important everyday skills. Featuring practical advice and tips for practitioners, carers and parents, these books will help you explore positive behaviour with children in a fun and friendly way.
Reviews
Jessica
Time to Go to Nursery is an absolute must-have book to help prepare any child for starting nursery or to settle any children who have already begun this huge journey. The unknown can be worrying for both children and their parents and this books teaches them exactly what they can expect from a typical nursery in an interactive style.
Whilst exploring the simple text and colourful illustrations, children and adults are prompted to have positive discussions as they read the various questions, for example, 'What do you like doing?', 'What foods do you like?' and 'What songs do you know?'.
Penny Tassoni MBE is an Early Years education consultant who has written many informative books about early learning and childcare. The double-page spread at the back of this book is absolutely invaluable to parents who have children preparing to begin nursery. Penny shares her expert wisdom with us as we learn ways to prepare children for nursery and what we should do as parents on the big day too! It even explains the 'key person' system that nurseries have in place to support every child's development.
This hardback book is just one of many books in a very successful and incredibly useful series featuring: Time to Care, Time to Go to Bed, Time to Tidy Up, Time to Get Dressed, Time to Share, Time to Eat and Time to Make Friends. My two-year-old niece and I would highly recommend these books for any nursery setting and any parents of little ones.
32 pages / Reviewed by Jessica Bunney, teacher
Suggested Reading Age 0+
Other titles