Torn Apart - The Partition of India, 1947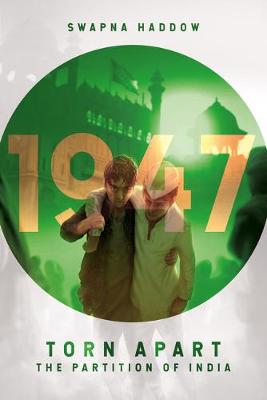 By Author / Illustrator
Swapna Haddow
Genre
Historical Fiction
Age range(s)
9+
Publisher
Scholastic
ISBN
9780702300417
Format
Paperback / softback
Published
05-08-2021
Synopsis
A thrilling and moving account of the largest movement of people in history, telling both sides of the story through the voices of children at the heart of Partition. It's October 1947 and two young boys find themselves thrown together during the dramatic changes of Partition. As the new India and Pakistan are born, can the friendship between these two children rise above the tensions between the two countries? When the British announced they would be leaving India, a feeling of hope bubbled up in towns and villages across the country - they would be free to rule themselves at last! But deciding to split the country in two - Partition - would soon mean so much more. An exhilarating account of the largest movement of people in history, telling both sides of events.Perfect for any child wanting to learn more about history's untold stories. Great background reading for Key Stage 2 & 3
Reviews
Jennifer
Torn Apart - the Partition of India is a powerful and absorbing dual narrative story focusing on the fates of two young boys - one a wealthy Muslim and the other a poor Hindu street orphan - brought together by the horrendous violence, fear and division created by the 1947 partition of India.
This story absolutely gripped me, both as a fictional account of two boys forging a friendship, despite their differences, and also as a historical retelling of fascinating aspects of Indian history and the events that unfolded when British rule there came to an end.
Torn Apart simmers with tension from start to finish. It is cleverly told in alternate chapter first person narratives and takes the reader completely into the inner thoughts and feelings of both its main characters, Ibrahim and Amar. Ibrahim becomes separated from his family when fleeing for Pakistan. Alone in the world, it is only an unlikely ally, street urchin Amar, who can save his life in the midst of bloodshed and conflict between the Muslims and Hindus.  Two contrasting lives collide – can Ibrahim trust Amar to help him get safely to the border and can Amar put aside his thirst for revenge for the death of his only friend's life and be the better person to protect Ibrahim?
This is such a poignant, incredibly moving and devastatingly honest depiction of the individual heartbreak and suffering caused by the brutality created through the partition and also a vivid and raw account of the bloodshed and traumas across the communities and cultures of the whole country at this time.
Torn Apart captivated, engaged, entertained and educated me . The empathy the reader feels for both boys makes the dangers and grim scenes incredibly real and personalized and this is a fantastic way in which the author really brings the stark reality of this time alive. That the boys form a friendship and risk so much for each other lends the power of hope and humanity to the story and it is this compassion and bond that lifts the book – it mourns and remembers the past but uses it to move forward and see the strength rallying together and celebrating our differences.
128 pages / Reviewed by Jennifer Caddick, teacher
Suggested Reading Age 9+
Other titles