Tragedy at Sea: The Sinking of the Titanic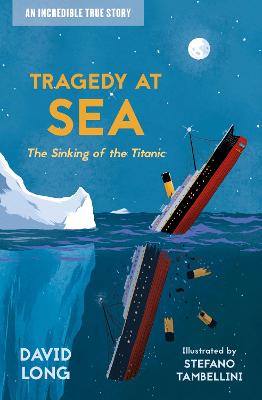 By Author / Illustrator
David Long, Stefano Tambellini
Genre
Historical Fiction
Age range(s)
9+
Publisher
Barrington Stoke Ltd
ISBN
9781781129661
Format
Paperback / softback
Published
01-04-2021
Synopsis
On 10 April 1912, RMS Titanic set sail from Southampton on her maiden voyage to New York. This "Ship of Dreams" was the largest and most luxurious ocean liner in the world. It was claimed she was unsinkable. But four days later, when the ship struck an iceberg, the loss of Titanic and over 1,500 passengers would become one of the most infamous maritime disasters in history.
In this fact-filled retelling of its construction and doomed maiden voyage, David Long brings Titanic's tragic tale to life.
Reviews
Beverley
The Titanic is arguably the most famous ship in the world, and this gem of a book tells its story through conception to building and, ultimately, to its tragic sinking. The author, David Long, has managed to pack the book with facts, but always keeps it readable and accessible to the reader. The information is set out clearly; the author includes some interesting comparisons to show the reader how vast an undertaking the building of the Titanic was. For example, we learn that the ship's anchor was so heavy it took 20 horses just to move it! There are fascinating descriptions of the facilities available on board the ship, and the contrasts between travelling first class and third class are described perfectly.
The chapter covering the sinking of the Titanic is particularly well written, from the ship hitting the iceberg to it breaking up and disappearing beneath the ocean. The author includes a chapter covering the aftermath of the disaster and the many safety measures which were introduced after the loss of the Titanic.
The illustrator, Stefano Tambellini, deserves a special mention for his illustrations and diagrams of life on board the ship, which brilliantly complement the text. The publisher, Barrington Stoke, specialise in books for dyslexic and reluctant readers, so the book is printed on their trademark cream paper and using their accessible font. However, this is such an interesting book that it will be enjoyed by anyone who loves history. Highly recommended!
96 pages / Reviewed by Beverley Somerset, school librarian
Suggested Reading Age 9+
Other titles