Transported: 50 Vehicles That Changed the World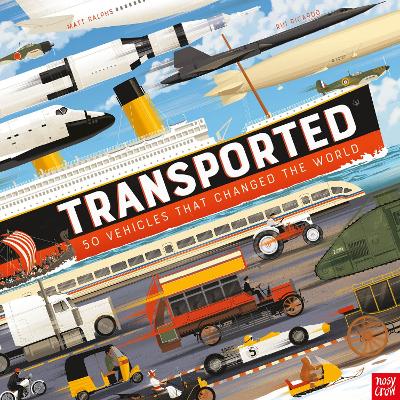 By Author / Illustrator
Matt Ralphs, Rui Ricardo
Genre
Non Fiction
Age range(s)
7+
Publisher
Nosy Crow Ltd
ISBN
9781839942174
Format
Hardback
Published
01-09-2022
Synopsis
A fascinating book about the vehicles that have shaped our world, written by narrowboat captain and children's author Matt Ralphs, with stunning colour illustrations on every page by Rui Ricardo.
From ancient chariots and Viking longships to racing cars, rockets and solar-powered aeroplanes, our world has been changed by the pioneering development of many incredible vehicles. Take a journey through time to discover how these 50 groundbreaking inventions changed the world and how they might even shape our future . . .
Reviews
Lucy
Transported is a lovely non-fiction book about 50 different vehicles that changed the world. The book starts with the Polynesian Canoe (several thousand years ago) and goes chronologically until more recent inventions like the electric bike and solar powered aeroplanes. It's got plenty of facts and statistics, including details of how each invention has changed the world. It also includes transport on land, across water, in air and in space.
This would be a great addition to any classroom; it's bursting with facts and key historical figures in the development of the transport industry such as The Wright Brothers. As a teacher, you could use it to help with research about different historical projects or just to enjoy as part of the children's curiosity of the past. It would also make a fantastic present for any child with a thirst for knowledge about transport and how this has changed over time.
112 pages / Reviewed by Lucy Hopkins, teacher
Suggested Reading Age 7+
Other titles