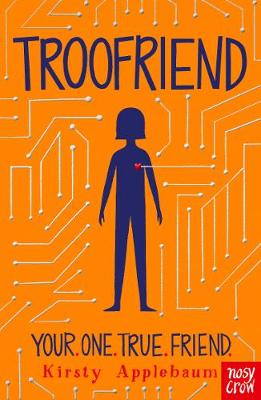 By Author / Illustrator
Kirsty Applebaum
Genre
Friendship
Age range(s)
9+
Publisher
Nosy Crow Ltd
ISBN
9781788003476
Format
Paperback / softback
Published
02-04-2020
Synopsis
Imagine having the perfect friend, one who never steals, lies or bullies. Now you can, with the TrooFriend 560, the latest in artificial intelligence! What can go wrong with a robot buddy? Especially one that's developing human characteristics and feelings, and who has just run away with her human?
A topical and sinister middle-grade novel about artificial intelligence from the Waterstones Children s Book Prize shortlisted author of The Middler.
Reviews
Carol
Sarah's parents, like many others, buy their daughter a 560 mark IV Troofriend as an AI friend. Sarah names her AI friend Ivy. At first, Sarah is not really interested in the new friend her parents have bought her, until she realises this may be a way to make real friends at school. Meanwhile, there are confusing demonstrations at the factory where the Troofriend was produced, about androids rights.
The story is told by the AI, Ivy, who names and explores emotions by looking at body language and tone of voice and gives her very literal point of view on the world around her. Soon after the family take delivery of the Troofriend, it becomes apparent that the android is malfunctioning. Could Ivy be experiencing human like qualities?
Troofriend is a thought-provoking read that I really couldn't put down. I tried to slow down my reading to make it last, but I just couldn't stop turning the pages. I am looking forward to reading the other novels by this author. A well deserved 5 stars from me.
224 pages / Reviewed by Carol Wright, school librarian
Suggested Reading Age 9+
Jacqueline
In Troofriend, Sarah is not overjoyed when her busy parents get her an android to be her friend. It is not just any old android either but the Jensen and Jensen Troofriend 560 Mark IV. Sarah would rather have a dog but she accepts the Troofriend, who she calls Ivy. Ivy is programmed to be the perfect friend for your child; she won't lie, steal or bully, programmed only for fun and goodness. But if that is the case, why does she covet Sarah's belongings and why is she scared of the dark?

Having really enjoyed The Middler by Kirsty Applebaum, I was looking forward to reading this one. It is entirely different but an excellent and thought-provoking read. It touches upon what makes us human and whether androids could ever be considered sentient life. It is also about relationships, both within the family and with friends. There is something a bit creepy about the Troofriend and yet as it is written in the first person by Ivy herself, it is also a story of growing awareness and self.

Whilst not a difficult read, it contains a lot of inference which makes it more challenging. The reader has to understand what Ivy does not; all the subtle ways that people communicate, the body language and turns of phrase. Ivy is literally the innocent in the story, and it is up to the reader to fill in some of the blanks.

As the relationship between Sarah and Ivy develops, so does the tension - between them, but also between androids and the rest of society.

Suitable for Upper Key Stage 2, this is an excellent story, written from an unusual viewpoint and destined to stay in the mind long after you have finished reading it.

224 pages / Reviewed by Jacqueline Harris, teacher
Suggested Reading Age 9+
Jenny
Troofriend - a great science fiction themed, smart and thought provoking story. Sarah's relationship with her new Artificial Intelligence android, Troofriend, is cleverly written with a sense of enthralling tension throughout. It very quickly raises lots of questions in the reader's mind - not only about whether a robot can be created to feel just like a human but also questions about human emotions and interactions themselves .

There's a sense of fun and humour in scenes where Ivy emulates her human family and starts to understand their personalities. Alongside this, however, there is an unnerving edge to Ivy's errors and increasingly independent choices.

The blossoming friendship of Sarah and Ivy was beautifully written and so quite bitter sweet to read at times. The author succeeded in making sure her readers invested as much empathy in Ivy's AI character as they did with human characters and their worries and fears.

A gripping and stylish story.

224 pages / Reviewed by Jenny Caddick, teacher
Suggested Reading Age 9+
Other titles