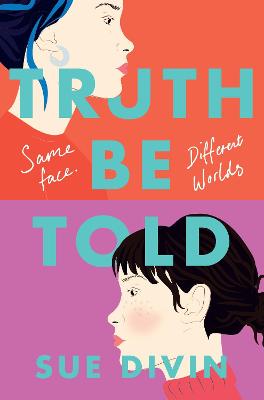 By Author / Illustrator
Sue Divin
Genre
Friends and family
Age range(s)
14+
Publisher
Pan Macmillan
ISBN
9781529040982
Format
Paperback / softback
Published
14-04-2022
Synopsis
The gripping new YA novel from Sue Divin, the acclaimed and Carnegie shortlisted author of Guard Your Heart.

Northern Ireland. 2019.  Tara has been raised by her mam and nan in Derry City. Faith lives in rural Armagh.  Their lives on opposite sides of a political divide couldn't be more different. Until they come face-to-face with each other and are shocked to discover they look almost identical. Are they connected?

In searching for the truth about their own identities, the teenagers uncover more than they bargained for.  But what if finding out who you truly are means undermining everything you've ever known?
Reviews
Julie

- Age 15
Truth Be Told is the latest novel by Sue Divin, the acclaimed author of Guard Your Heart. This YA novel certainly packs a punch from the outset, and I found the first two chapters so absolutely compelling I was hooked from the very start.
Set in modern-day Northern Ireland this family mystery has everything and more to keep the reader guessing. Divin first introduces us to Tara who is the Catholic daughter of a two-generation single parent family. From the start, we understand the pain and anguish Tara is going through as we are aware that she witnesses the shocking suicide of her boyfriend, Oran. This shatters Tara's confidence and sends her into a spiral of anger and grief.
Following Oran's shocking death, the community decides to send the youth club which she belongs to on a residential holiday with a group of protestant students. However, no one could prepare Tara for what is about to happen. As the other group of students begin to arrive, stunned, shocked whispers travel around the room. This is due to the fact that Faith, a protestant student who has just arrived from rural Armagh, is Tara's double; everyone is stunned as they look almost identical. Confronted with this situation, Tara and Faith have no choice but to try and unravel the mysteries of their past. And so this chance meeting sees the beginning of the girls' quest to discover their families secrets and to confront the lies from the past.
I really enjoyed this family mystery novel. Sue Divin holds no punches when it comes to depicting the harsh realities of life for the cast of characters. Her use of dual narrators in this novel really gives us an insight into the characters' personal journeys, which I thought was really powerful and thought-provoking. From the beginning, Tara seems very different from Faith. Tara is catholic, from a poor single-parent family, she is angry, has very little confidence and no self-belief. For Faith, life seems much easier; she is the daughter of strict Evangelical Protestant parents who are well respected within the church. From the outside she seems to have it all together. However, as the story unfolds and the girls bond over their need to understand their possible shared heritage, it soon becomes apparent that Faith is battling with her own issues.
I really enjoyed this novel and found it a compelling mystery that spans the lives of three generations of women. I would recommend for a YA audience as it does touch on some tough themes which include violence, suicide and depictions of grief and loss. It is one of the very few YA novels that I have come across that has depictions of a main character suffering from hair loss and alopecia. I also found the novel topical and thought provoking; not only does Divin highlight what family life was like living throughout the Northern Ireland conflict, she also brings the novel right into the present day as she draws attention to the devolved governments' attitude toward LGBTQ rights at the time.
Whilst the novel does feature some hard-hitting themes, it is also about hope, forgiveness and reconciliation.
304 pages / Reviewed by Julie Broadbent, school librarian
Suggested Reading Age 14+
Lucy
Tara is from Derry, Faith is from Armagh; their lives are very different, but they look exactly the same - they just don't know why... Two teens from very different backgrounds - Tara, the Catholic daughter of a two generation single parent family, and Faith, the daughter of strict Evangelical Protestants from Armagh, come face to face at a residential and discover they look almost identical. A DNA test reveals they are related, and that Faith's father is not who she thinks - while Tara has never known hers.
Between them, they set out to unravel the mystery of their shared parentage, but in doing so set in motion a series of revelations about the pasts of both their families. Meanwhile, they are also dealing separately with their own issues - Tara angry and grieving after the sudden death of her boyfriend Oran, and Faith hiding her true sexuality from her family for fear of being disowned.
Stop everything and read Truth be Told! Now! Right now! Wow! What an absolute gem of a YA novel. From a contextual point of view it's bang on. So much information about the many and varied important issues in Northern Ireland, Catholics, Protestants, faith, identity and prejudice. It's fact with fiction or vice versa and is a unique and wonderful lesson in how to combine the two without the reader feeling that they are being lectured. All this wrapped around the genius dual narrative story of Tara and Faith. You will laugh and you will cry along with both of them.
If being shortlisted for the Carnegie novel with Guard Your Heart wasn't enough, Truth Be Told is bound to catapult Sue Divin into the stratosphere and beyond as this is YA authorship at its absolute finest. A seriously grown up YA novel – absolute genius on steroids!
304 pages / Reviewed by Lucy Georgeson, school librarian
Suggested Reading Age 14+
Clare
Tara is the catholic daughter of a single mother, raised in a tight family of women in Derry. Faith is the daughter of strict evangelical protestant parents and brought up in Armagh. Wildly different in temperament, the girls are astounded - when meeting on a youth trip - to realise that they are almost identical in looks.
Having always doubted her parentage, Faith immediately suspects that Tara may hold the key to long-buried family secrets. Together with Faith's cousin Jack, they begin to dig into their respective family pasts and uncover a tangled and traumatic backstory. With Tara and Faith's lives further complicated by grief, romantic entanglements and sexual identity, the girls realise that as well as uncovering their past, they must confront issues that will help define their futures.
Set in 2019 when Northern Ireland was without a Government and subject to often controversial decisions made in London, Truth be Told is a very topical slice of recent history. Both girls are products of their backgrounds - fiercely protective of the truths they have grown up with and naïve about the complexities of their families' and country's past. This, and other substantial issues, are deftly addressed without compromising the central coming-of-age story.
Tara and Faith are well-drawn, engaging and appealingly different characters and Jack provides an empathetic foil. This is a compelling, wise, contemporary novel that cleverly weaves past and present into an absorbing tale of family and growing-up.
304 pages / Ages 12+ / Reviewed by Clare Wilkins, school librarian
Triggers: Suicide
Suggested Reading Age 14+
Other titles