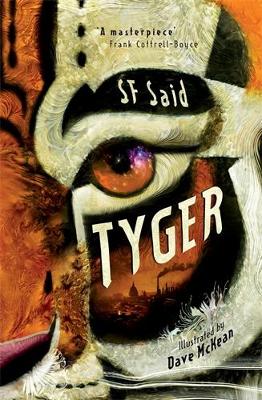 By Author / Illustrator
SF Said, illus Dave McKean
Genre
Environment
Age range(s)
9+
Publisher
David Fickling Books
ISBN
9781788452830
Format
Hardback
Published
06-10-2022
Synopsis
'There are three doors that I may show you. You will find a different kind of power behind each one . . .'   Adam has found something incredible in a rubbish dump in London. A mysterious, mythical, magical animal. A TYGER.   And the tyger is in danger.  Adam and his friend Zadie are determined to help, but it isn't just the tyger's life at stake. Their whole world is on the verge of destruction. Can they learn to use their powers before it's too late?
Reviews
Louisa
It's the twenty first century in London - but a London that is only partly recognisable. It is still the global capital of an Empire that rules the world and the motor car has never been invented. Inhabitants whose families originate from different countries are forced to live in ghettos guarded by checkpoints and are treated with suspicion and hostility if they venture beyond them. Adam lives in the Soho ghetto but, as the delivery boy for his parents tailoring shop, he has to make daily, dangerous journeys through the wider city. On one trip he meets the tyger: a mysterious, magical and majestic animal who sets him on a secret quest to open the gates to other worlds. He soon manages to team up with Zadie, a girl from the same ghetto. For success, both of them need to unlock their powers of perception, imagination, creation and revelation.
Tyger is a book which, for me, resonated with rich allusions to other literature and yet it defies any kind of pigeonholing. Tyger brought to mind Aslan (without the Christian iconography). The setting of London as it might have been had history been different reminded me of the wonderful historical novels of Joan Aiken. Meanwhile, Zadie's full name is Scheherazade; Adam's last name is Alhambra. There's the good versus evil theme of fantasy, a bucketful of gripping adventure and even a glimpse of time travel. It has a powerful message too.
SF Said is a genius at using stories as both a call to action and a cry of hope. As Tyger says, there are 'infinite possible histories of the world… the way things are is not the way they have to be'. What could be more inspiring in our fearful age?
The story is told in superbly constructed prose. It's simple and direct enough for clarity and yet sophisticated in its choice of language, imagery and symbols. Just the same adjectives could be used for Dave McKean's exquisite, and equally original, illustrations. Here are two masters of their crafts and their collaboration is absorbing, uplifting and joyous - my book of the year so far. Buy it, read it, share it!
304 pages / Reviewed by Louisa Farrow, teacher
Suggested Reading Age 9+
Other titles