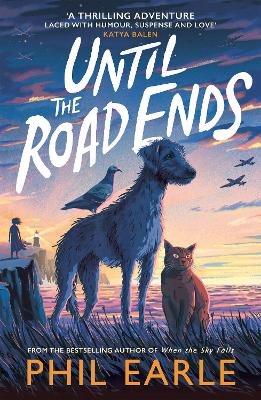 By Author / Illustrator
Phil Earle
Genre
Historical Fiction
Age range(s)
9+
Publisher
Andersen Press Ltd
ISBN
9781839133169
Format
Paperback / softback
Published
01-06-2023
Synopsis
Until the Road Ends is the eagerly awaited new novel from the bestselling author of When the Sky Falls: The Times Children's Book of the Year, winner of a Books Are My Bag Readers Award, the British Book Award for Children's Fiction and shortlisted for the Carnegie Medal.
When Peggy saves a stray dog from near-death, a beautiful friendship begins. Peggy and Beau are inseparable: the only thing that can ever come between them is war. Peggy is evacuated to the safety of the coast, but Beau is left behind in the city, where he becomes the most extraordinary and unlikely of war heroes.
Night after night, as bombs rain down and communities are destroyed, Beau searches the streets, saving countless families. But then disaster strikes, changing Peggy's life forever. With her parents killed, both she and Beau are left alone, hundreds of miles apart. But Beau has a plan to reunite them at long last . . .
Reviews
Jacqueline
Until the Road Ends is the story of Beau, a dog from the streets, who is saved by a girl called Peggy. When war breaks out, the two are separated, but when tragedy strikes, Beau has to find Peggy. Travelling across war-torn England, Beau and his companions, Mabel the cat and Bomber the pigeon, travel from London to the South Coast, facing great difficulties and dangers.
Partly based on a real dog who rescued people from the rubble during the Blitz, Until the Road Ends is an adventure and emotional tale, told from the animals' points of view. At first, I was a bit taken aback to have the animals talking to each other, it was unexpected and unlike Phil Earle's previous books, yet somehow it really worked. This is mainly because the animals are such excellent characters and make great narrators.
Phil Earle is also able to recreate the feel of wartime Britain so well, the atmosphere is tense, anxious and sad. Above all this is an adventure, a daring quest and journey through the unfamiliar. Phil Earle excels at this sort of adventure, deftly mixing the horrors of war with the mundane, the terror and the journey.
As with his previous two books set at the time of WW2, this is a story of love and loss, and readers should be aware that main characters do die in this book. Once again, Tom Clohosy Cole has made a glorious cover illustration that entirely fitted with my imagination, and I kept having to look at it while I was reading because the animals are so beautifully captured.
This will be another useful book in the canon of historical stories, as well as just a great read.
288 pages / Reviewed by Jacqueline Harris, teacher
Suggested Reading Age 9+
Sue
When Peggy saves a stray, she and Beau, the dog, become inseparable. However, they are forced apart by the war as Peggy and her brother, Wilf, are evacuated to the safely of the coast, leaving Beau- and Wilf's grumpy cat, Mabel, behind in the city on the condition that the animals are not put down.
Although lonely, Beau is allowed to help Peggy's father in his Air Raid Warden's duties, saving countless lives as he scents those trapped by fallen buildings. But disaster strikes and both Peggy's parents are killed, leaving the animals vulnerable and alone. Determined to be reunited with the person he loves the most, Beau, a very unwilling and uncooperative Mabel, and Bomber, a resourceful and determined pigeon, set off on the journey of a lifetime.
Until the Road Ends is the third novel by Phil Earle which is set during World War II and, like the others, it should come with a packet of tissues attached. Phil's incredible skill as a storyteller, his ability to capture poignant moments and his attention to detail, makes each of these stories a special read - but this is, I think, my favourite.
The story is full of historical details, with an afterword by Phil explaining where fact meets fiction, making this an excellent text to share with children who are learning about, or who are keen to find out more about, this period of history. The bravery of the humans and animals who worked as Air Raid Wardens, the destruction and devastation of the Blitz, the needless loss of life are all witnessed through the eyes of the animals, whose voices are unheard and unheeded, yet are key to this narrative.
There is also the joy of discovering that there really was someone who cared enough about animals at this time to create a rescue centre in a cinema! Phil Earle captures all of this in a way which children can understand - and learn from. In part, the story is reminiscent of Sheila Burnford's The Incredible Journey - the devoted bond between pets and their humans which is so strong that nothing will stop them being together - but this book does so much more than that. It's about love and loss and reunion, valour, determination and belief, kindness, truth and joy.
There are many deeply poignant moments as the story unfolds which ring true, provoking genuine emotion in the reader who is deeply bound up in the story of Beau, Mabel and Bomber. A must-have.
288 pages / Ages 10+ / Reviewed by Sue Wilsher, teacher
Suggested Reading Age 9+
Other titles