Urban Forest School: Outdoor adventures and skills for city kids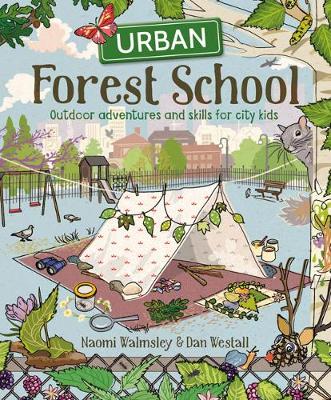 By Author / Illustrator
Dan Westall
Genre
Environment
Age range(s)
16+
Publisher
Guild of Master Craftsman Publications Ltd
ISBN
9781784945633
Format
Paperback / softback
Published
07-06-2020
Synopsis
Venture out to your local greenspace or just into your back yard, and try the amazing array of outdoor activities from building a hidden sheet den to creating watering stations for bees. While you are there, scavenge and forage for raw materials and then extend the fun with creative makes and recipes to do back at home such as leaf printing, stick boats and stinging nettle crisps. Get to know the wild parts of your city or town with handy bug, plant and tree ID sections, plus a scavenger hunt and cloud-spotting game that can be done when out and about. Games to play with organised groups or with your family and friends adds another dimension to this book that is bursting with ideas for urban outdoor adventures. 
Authors Dan Westall and Naomi Walmsley run Outback2Basics from their patch of woodland in Shropshire, UK. Specialising in bushcraft and Stone Age skills, they provide unique experiences for school children and teachers to connect to nature. Dan has been a bushcraft teacher for many years and has also acted as a medic and survival consultant on various TV shows. Naomi is a qualified bushcraft instructor and Forest School Leader and believes that every child should be able to safely light a fire and have at least ten uses for a stick by the age of ten. She has also written about bushcraft and parenting for many magazines, including Bushcraft & Survival Skills, Living Woods and Juno. Together, they undertook a five-month Stone Age immersion experience in the US, living in the wilderness without any modern equipment, profoundly influencing their lives and teaching.
Playing and learning outside in nature has been shown to benefit children in many ways, such as improving moods, concentration & confidence Story spreads dotted throughout the book bring together experiences and memories of urban nature interactions The main sections cover: home crafts, in the park or garden and around the city or town Aimed at children, parents, outdoor teachers or anyone passionate about engaging with nature.
Reviews
Nicky
Urban Forest School, published by the Guild of Master Craftsman Publications, is a great non-fiction text resource for teachers and school staff as well as parents, especially during this difficult time when we are all doing our best to home school and keep little ones entertained. The book explores the benefits that come with spending time outdoors and provides lots of useful information and ideas on things to do when venturing out to any local green space.
The book begins with an introduction to 'What is a Forest School?', as well a handy brief on 'using the book'. The main body of this book is then shared into four sections: In the park or garden Around the city or town Home crafts Recipes. Within each of these chapters, the different activity ideas are outlined in the contents page and in among these there is all this 'extra' information. Such as 'why we need trees in our cities', variation ideas for different year groups.
When I first heard the title of this book, I had imagined exactly what the text would entail photos and information (ideas) on activities to do outside. This was great as I was excited to get some inspiration on ways I could get my class learning outside more. On receiving this book and flicking through the contents, I was so pleasantly surprised.
The activity pages are made up of step by step instructions with an age appropriate indication this is great as there seems to be something for everyone in here not just the typical EYFS making use of the outdoors. A time guide is also included so that you can plan appropriately, listed tools and materials needed and, on most pages, a useful tip.
If I'm honest, at first glance, I felt a little overwhelmed at all of the information on offer in this book and not sure where to begin. The book is chunky and although big, bright photographs adorn every page, there is still ample text in small font on each page, cramming in some impressive content. Once you have taken the time to read through the contents page and the 'using this book' segment, however, you gain a better understanding on how to devour this book, dipping in and out to bits that 'look good'. I especially liked the recipes for stinging nettle crisps and smoothies. So many of the ideas here, I had never heard of or seen before.
The intended audience for this resource seems to be a real mixed bag. Intertwined throughout the book there are moving anecdotes from people who have special memories of interacting with or discovering nature, and these snippets of text appealed to me as a mother, reminding me that exploring nature more often, in any way we can, will provide my own children with some of the most unforgettable memories for when they are older.  The pages full of ideas are written in a way that is easily accessible to both children and adults alike. The pages could be photocopied and provided to children in class to read and understand for themselves, teaching them how to follow instructions and gain a better understanding of non-fiction text types. There are also valuable resources for teachers to photocopy and print out such as track templates and scavenger hunt checklists for city walks.
Something for everyone, a bumper book of learning and fun!
160 pages / Ages 5-adult / Reviewed by Nikki Stiles, teacher
Suggested Reading Age 9+