Vi Spy: Never Say Whatever Again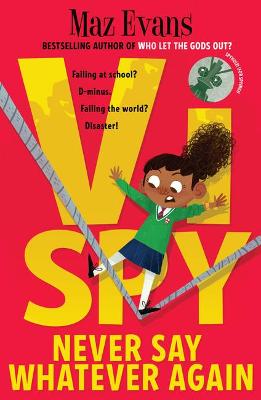 By Author / Illustrator
Maz Evans
Genre
Mystery & Detective
Age range(s)
9+
Publisher
Chicken House Ltd
ISBN
9781911490746
Format
Paperback / softback
Published
03-02-2022
Synopsis
The second adventure in Maz Evans's laugh-out-loud funny Vi Spy series! Vi is failing at top spy school Rimmington Hall - even though the school motto is 'Failure is Not an Option'. To make it worse, nearly-stepbrother Russell Sprout is an A* student. Worst of all, Vi's shadowy nemesis Umbra is still at large. Can Vi unveil the arch-villain before she gets expelled and her parents ground her for ever? She'll need the help of old friends and new, including 9-year-old super-hacker Missy Fit and BFF Tamina, who aims to save the world in a different way...
The second book in a brilliant middle-grade comedy adventure series, following book 1, Vi Spy: Licence to Chill, which was shortlisted for the Indie Book Awards. From the bestselling author of the Who Let the Gods Out? series. This is a laugh-out-loud funny, high-octane spy story perfect for readers aged 8 and up. Perfectly combines humour and heart: addresses the realities of being caught between divorcing parents.
Praise for the series: 'Twists, turns, spies and surprises. What more do you want? Tears? Laughter? Maz Evans delivers them all.' Frank Cottrell Boyce. 'Vi Spy: Licence to Chill is brilliant - knockabout, laugh-a-minute, heartfelt fun' Ross Montgomery. 'Wildly hilarious' The Guardian.
Reviews
Natalie J.
Vi Spy: Never Say Whatever Again is the second in the trilogy about teenage trainee spy Valentine (Vi) Day. Coming to the end of her first year at Rimmington Hall spy school, Vi feels like her actions in the previous book, Licence to Chill, when she defeated the super-villian Umbra, proves she is a good spy and so she doesn't need to put up with pointless exercises like rope climbing in Mr Repp's PE class and that she can make her own decisions when out in the field in the simulation exercises. So why is she struggling to get good grades and why is the head, Ms Direction, always on her case?
As well as school not going to plan, she has to contend with all the chaos surrounding her mother, Easter Day's, second attempt at a wedding and her father's new life away from being a villain, which, somehow, seems even more dangerous. But then, her enemy Umbra makes a reappearance and Vi is caught up in trying to unmask their true identity and also prevent them from getting a deadly weapon and controlling the world. Oh, she also has to pass the end of year exams at school.
Vi is a wonderful protagonist, and is surrounded by lots of other intriguing characters. I particularly liked how she is confident, self-assured, and owns her mistakes and grows from them. Full of drama, intrigue, danger, action, and humour, especially with the pun names, this is a fast-paced, cliffhanger-filled school story and spy genre crossover.  I was surprised by how much I enjoyed since I have read and reviewed another one of Evans's titles for this website and had not particularly liked it. I am going to look out for the others in the series; it just shows that just as you should never judge a book by its cover, you shouldn't judge an author by one book.
368 pages / Reviewed by Natalie J McChrystal Plimmer, librarian
Suggested Reading Age 11+
Other titles