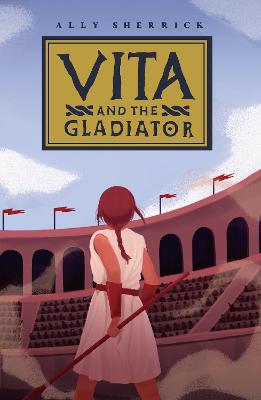 By Author / Illustrator
Ally Sherrick
Genre
Historical Fiction
Age range(s)
9+
Publisher
Chicken House Ltd
ISBN
9781913696535
Format
Paperback / softback
Published
02-02-2023
Synopsis
Vita longs to write the plays that she steals off to watch - but as the daughter of a high-born Roman, her only future is marriage. When her father is murdered, everything changes. She escapes with her life - only to end up a slave, sharing a cell with a fierce gladiator, Brea, and her wolf. But when Vita and Brea discover they have a common enemy, they know they must stand together for truth and justice... A rip-roaring adventure set in Roman London from the rising queen of middle-grade historical fiction, Ally Sherrick. Themes of deceit, storytelling and fighting justice.
Reviews
Donna
Vita lives a privileged life. Her father is a senior magistrate, and she has everything she could possibly want. But it's not enough for Vita. She loves to write and has a dream to see her plays and stories acted out in the streets of Londinium but as the daughter of a high-born, her only future is to be married, and she is already betrothed to Gaius Cassius Agrippa - her father's old army comrade. Stealing one of their maid's spare tunics, Vita escapes into the town disguised as a slave-girl. She moves around unnoticed and enjoys the freedom of being out alone.
When she returns home, however, Vita is not prepared for what greets her. Her father has been killed, her mother and brother nowhere to be seen, and before she knows what has happened, she is taken - as the slave she is dressed as - and sold. Vita finds herself sharing a cell with Brea, a gladiator known as Lupa, and her wolf. Cold, hungry and powerless, she couldn't be further from her former life. Her goal: to survive, escape and find her mother and brother. As the chilling reality of her new life unfolds, she finds herself fighting for her life.
Ally Sherrick has created a captivating read that brings the gladiatorial days to life through the eyes of Vita. This story will keep young readers thoroughly engaged as they race through the life and death adventure, willing Vita to survive against the odds. Curriculum links: Roman life, family, friendship, trust, hope and determination.
336 pages / Reviewed by Donna, teacher
Suggested Reading Age 9+
Other titles